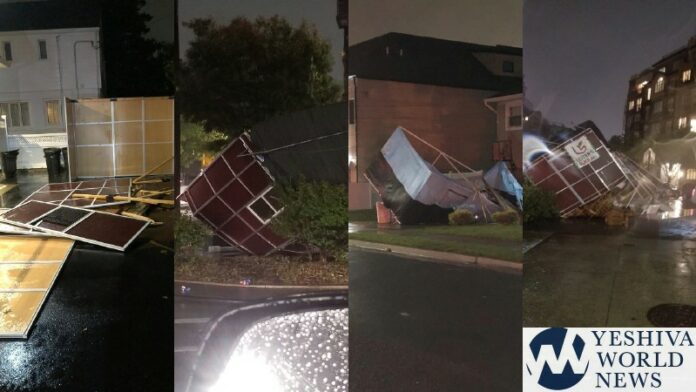 Strong and potentially damaging winds will be moving through the Tri-State area Thursday, with gusts reaching 40-50 miles an hour in some spots.
The winds follow a nasty coastal storm that slammed the tri-state area with heavy rain and strong winds Wednesday.
Conditions should dry up overnight and clouds will give way to partial sunshine come Thursday, but strong winds on the backside of the system will whip across the region with expected speeds of 25-35 mph — and gusts up to 60 mph in some spots. A wind advisory was issued for parts of the tri-state for Wednesday night into Thursday.
The weather improves leading into the weekend, with sunny skies and low-to-mid 60s forecast for Friday and Saturday and a bit warmer, though cloudier, conditions expected on Sunday. The threat for more showers returns Monday.
Here is the 7-day forecast for the Tri-State area:
*****SIGN UP NOW —- GET YOUR NEWS IN RECORD TIME***** Make sure you are one of the more than 22,000 that signed up to YWN WhatsApp Status to receive news in live time. Click this link – or send a message to 1-888-4-YW-NEWS (888-499-6397) – to see our status posts*****
Thursday
Gusty and cooler with a high of 59.
Friday
Breezy beauty with a high of 60.
Saturday
Classic October with a high of 64.
Sunday
Partlly sunny with a high of 68.
Monday
Possible showers with a high of 69.
Tuesday
Windy and rainy with a high of 70.
Wednesday
Morning rain with a high of 62.
(YWN World Headquarters – NYC)