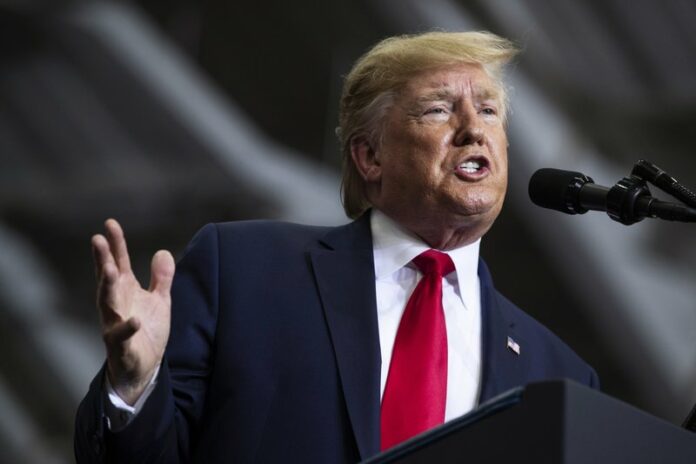 House impeachment investigators will hear on Thursday from two key witnesses who grew alarmed by how President Donald Trump and others in his orbit were conducting foreign policy in Ukraine, capping an intense week in the historic inquiry.
David Holmes, a political counselor at the U.S. Embassy in Kyiv, says he was having lunch with Ambassador Gordon Sondland this summer when he heard Trump on the phone asking the envoy about the investigations he wanted from the Ukraine president. The colorful exchange was like nothing he had ever seen, Holmes said in an earlier closed-door deposition.
Fiona Hill said her National Security Council boss, John Bolton, cut short a meeting with visiting Ukrainians at the White House when Sondland started asking them about "investigations."
The two witnesses set to appear Thursday are the last scheduled for public hearings in an inquiry that brought hours of testimony from a roster of current and former U.S. government officials defying Trump's orders not to appear.
WHO IS FIONA HILL?
She wrote a book on Russian President Vladimir Putin.
Hill was, until July, Trump's Russia analyst on the National Security Council. In her testimony before impeachment investigators last month, she delivered an impassioned warning that the United States' faltering resistance to conspiracy theories and corruption represents a self-inflicted crisis and renders the country vulnerable to its enemies.
Hill worked as an intelligence officer under Presidents George W. Bush and Barack Obama. In the Trump White House, she served directly under national security adviser John Bolton.
Look for whether she fills in blanks on Trump's moves regarding Ukraine. Republicans have complained that Hill is one of several witnesses with no firsthand knowledge of the president's actions, which Democrats say amount to impeachable bribery.
WHO IS HOLMES?
He is a political counselor at the U.S. Embassy in Kyiv who testified that he overheard Trump's call with Sondland in which the president asked about "the investigations."
Sondland confirmed the July 26 call with Trump. The cellphone call came a day after Trump pushed the Ukranian president to investigate Democrats.
Holmes was dining with Sondland at a Kiyv restaurant when Sondland assured Trump that Ukraine would conduct the investigations he was seeking and would do anything he wanted.
Look for whether Holmes adds to evidence that Trump was using a this-for-that technique to get what he wanted from Ukraine.
(AP)