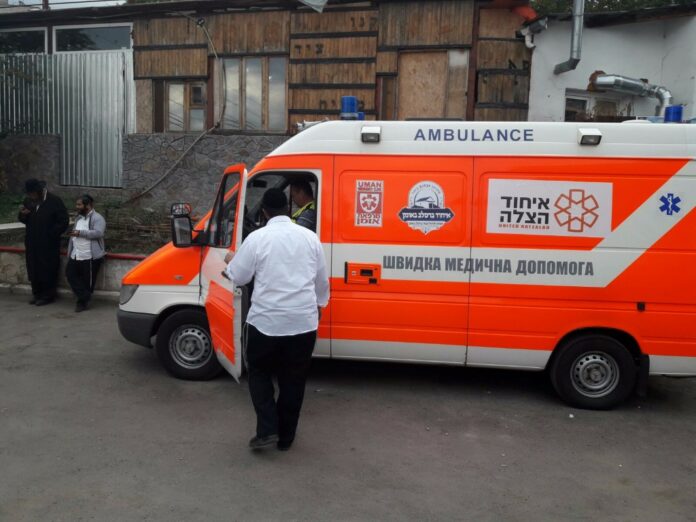 Early on Shabbos morning, a Jewish man who was learning at the Kever of Rebbe Nachman of Breslov in Uman was stabbed. The motive for the stabbing is yet unclear. The victim was treated at the scene by United Hatzalah emergency medical service volunteers before being transported to a local hospital in moderate condition.
The stabber and his victim were both at the gravesite, and just after 3:00AM, the stabber decided to stab the local resident who was sitting and learning at the site. It is unclear if there was any provocation.
The United Hatzalah volunteers who responded received medical guidance from the organization's dispatch in Israel and managed to stabilize the patient who was quickly losing consciousness. He is still in a local hospital and receiving treatment.
Local Askanim told Kikar HaShabbat that the assailant is known to the community and that it isn't his first time assaulting people. So far, nothing has been done about his repeated offenses because he has a strong family tie to one of the local Askanim who runs the gravesite of Rebbe Nachman.
The other Askanim in the community have said that they have run out of patience with the assailant and this time they will put an end to it. "This is a ticking time bomb. If we don't act quickly he will explode."
Rabbi Yaakov Jean, Chief Rabbi of the community in Uman issued a letter to the residents of the city which said: "To all of the residents of Uman. I am shocked to the depths of my soul how this crazy person is allowed to come in and harm our community once again and that no one says a word against him. I am further shocked that nothing is done about it. This man sees clearly that there is nothing preventing him from acting with dangerous violence against others. In this reality, there is no way that one can raise children, or live a normal life here. This place is being left to whoever shows the most roughness and the power of violence and drugs reign in our streets."
(YWN Israel Desk – Jerusalem)