YWN WHATSAPP STATUS UPDATES: CLICK HERE to join the YWN WhatsApp Status.
YWN WHATSAPP GROUPS: CLICK HERE to be added to an official YWN WhatsApp Group.
Three victims were murdered and others injured after two terrorists went on a killing rampage on Ibn Gvirol Street in Elad on Thursday night. Two other victims were in serious condition, one in moderate condition and one in mild condition.
Eyewitnesses claim the terrorist was seen carrying a hatchet and a knife.
Police launched a massive search for the assailants, setting up roadblocks and dispatching a helicopter. The stabbing, coming on Israel's Independence Day, was the latest in a string of deadly attacks in Israeli cities in recent weeks.
"We will get our hands on the terrorists and their supportive environment, and they will pay the price," Israeli Prime Minister Naftali Bennett said after huddling with senior security officials late Thursday.
Alon Rizkan, a medic with Magen David Adom, described a "very difficult call" when he arrived at the scene in Elad, an ultra-Orthodox town near Tel Aviv. He said he identified three dead people at various locations and four others who were wounded, two seriously.
The Palestinian terrorist group Hamas, which rules the Gaza Strip, praised the attack and linked it to violence at the Har Habayis.
"The storming of Al-Aqsa Mosque can't go unpunished," Hamas spokesman Hazem Qassem said. "The heroic operation in Tel Aviv is a practical translation of what the resistance had warned against."
United Hatzalah volunteer EMT Moshe Sa'adon, the head of the Elad chapter for the organization who was one of the first responders at the scene said, "Unfortunately, one of the people injured in the stabbing incident was pronounced dead at the scene. We had performed CPR on him in an attempt to save his life but were unsuccessful.
Additionally, together with other first responders, I treated two other people who were in critical condition and three additional people in serious condition. There was one person in moderate to serious condition and a number of people who sustained light injuries.
The Psychotrauma and Crisis Response Unit from Untied Hatzalah is active at the scene and providing emotional stabilization to a number of people suffering from emotional and psychological shock as a result of having witnessed the incident.
Lastly, I have instructed my teams to conduct a search in the immediate vicinity for any additional people who may have been injured but fled the area."
DEVELOPING STORY – REFRESH FOR UPDATES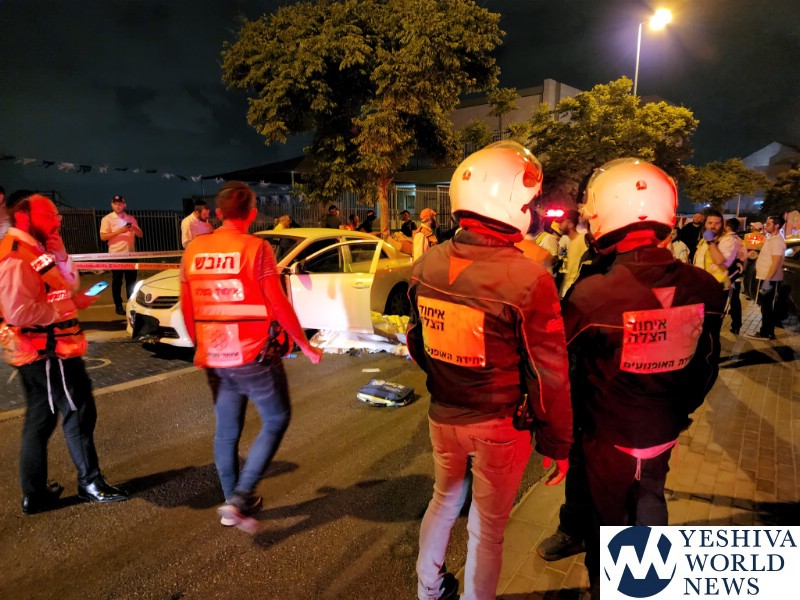 (YWN Israel Desk – Jerusalem)