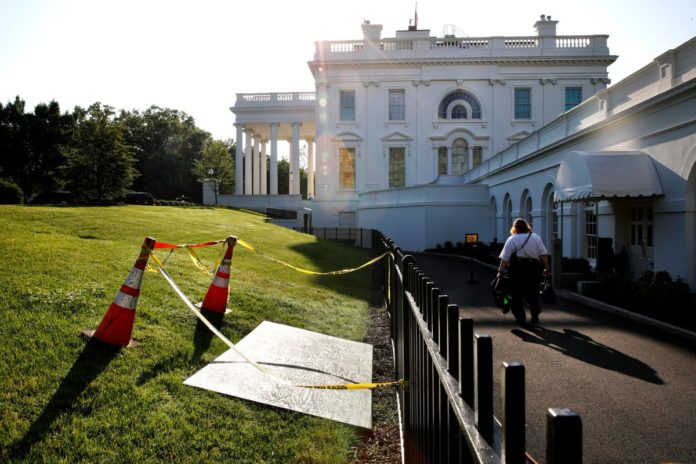 A sinkhole appeared on the White House's North Lawn on Tuesday, which naturally spawned jokes on the internet.
The sinkhole, confirmed by groundskeepers, is just outside the office of White House deputy press secretary Hogan Gidley and the White House press briefing room.
The sinkhole, which according to reporters who have observed it appears to be growing, was roped off with cones and caution tape.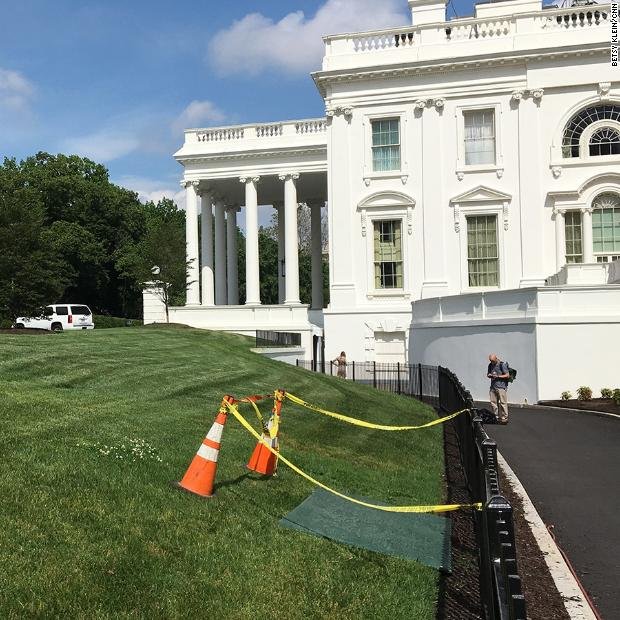 Trump is always talking about draining the swamp and now the swamp is trying to drain him.
#Sinkhole #Trump #WhiteHouse #DrainTheSwamp pic.twitter.com/oDVLeF23Pm

— CrashX (@Crash_SYS) May 23, 2018
This week I've been observing a sinkhole on the @WhiteHouse North Lawn, just outside the press briefing room, growing larger by the day. pic.twitter.com/BsFUtxFqpB

— Steve Herman (@W7VOA) May 22, 2018
BREAKING: Mysterious sinkhole appears in the White House lawn.

Normally they dont appear unless the ground below has been disturbed.

Is someone digging tunnels under the Whitehouse? And if so, who?

Has @SecretService checked? pic.twitter.com/fE1ZbsGgB7

— Mike Tokes (@MikeTokes) May 23, 2018
ICYMI: A sinkhole has developed on the White House lawn 😬 pic.twitter.com/rilAHLCv9S

— AJ+ (@ajplus) May 23, 2018
FOOTAGE- Sinkhole opens up under White House. pic.twitter.com/xAVHG5axOJ

— Jesse McLaren (@McJesse) May 22, 2018
Update: The @WhiteHouse sinkhole is now a cover-up. pic.twitter.com/X031j3SL0u

— Steve Herman (@W7VOA) May 22, 2018
The great White House sinkhole of 2018… fixed. cc @DaveBoyer pic.twitter.com/pQ3m8T6VIa

— The Washington Times (@WashTimes) May 22, 2018
It seems God has chosen the Korach approach to deal with the Trump administration. https://t.co/GUZvKQZKqf

— (((Yair Rosenberg))) (@Yair_Rosenberg) May 23, 2018
(Nat Golden – YWN)