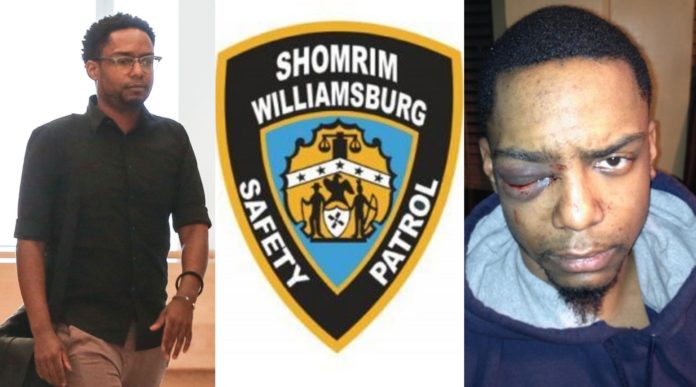 The prison sentence against a Hasidic man accused of beating a black man in December 2013 has been dismissed, as the defendant won his appeal – with his indictment being thrown out as well.
Mayer Herskovic was one of five people that were arrested and charged with beating up Taj Patterson in Williamsburg in December 2013, leaving him blind in one of his eyes. Herkovic was the final person still facing charges.
Prosecutors had initially dismissed charges against two of them – Joseph Fried, 29, and Aharon Hollender, 31. Two others — Abraham Winkler, 43, and Pinchas Braver, 22 — pleaded guilty to lesser charges and avoided time in prison.
Only Mr. Herskovic, 25, went to trial. He was convicted in September of gang assault, menacing and unlawful imprisonment, sentenced to 4 years in prison even though Mr. Patterson testified that he was not one of the main attackers.
Herskovic's lawyers had claimed he was "a scapegoat" in the attack and there was insufficient evidence to prove he was involved.
The court document reads in part:
Appeal by the defendant from a judgment of the Supreme Court, Kings County (Danny K. Chun, J.), rendered March 16, 2017, convicting Mayer Herskovic of gang assault in the second degree, unlawful imprisonment in the first degree, and menacing in the third degree, after a nonjury trial, and imposing sentence.
ORDERED that the judgment is reversed, on the facts, the indictment is dismissed, and the matter is remitted to the Supreme Court, Kings County, for further proceedings consistent with CPL 160.50.
Under the circumstances of this case, including the complainant's inability to positively identify any of his attackers, the varying accounts regarding the incident, and the DNA evidence, which was less than convincing, we find that the evidence, when properly weighed, did not establish the defendant's guilt beyond a reasonable doubt.
In light of our determination, we do not address the defendant's remaining contentions.
[FULL document and video of appeal in extended article]
Patterson, then a 22-year-old fashion student, claimed he was headed home to Fort Greene at around 4:30 a.m. on Dec. 1, 2013 after a night of drinking with friends, when more than a dozen ultra-Orthodox Jewish men – many of them members of Williamsburg Shomrim – began assaulting him on Flushing Avenue.
He suffered a fractured eye socket, torn retina and multiple contusions. His injuries were so severe, he lost vision in his right eye despite undergoing surgery three times.
"I'm walking down some block by myself and then the next thing I know, I'm surrounded by a group of Hasidic Jewish men and they're attacking me," Patterson recounted to the Daily News. "I was alone. I was an easy target. I'm black. I'm gay, a whole slew of reasons."
Patterson said he remembers the ringleader. "There was a crowd around him, cheering him on and getting him rowdy, and he would grab me and push me against the wall."
Evelyn Keys, an MTA bus driver, came to Paterson's rescue as she was rounding the corner of Flushing Ave. and Spencer St. when she saw the horrific attack unfold before her eyes, according to the Daily News.
"I get out of the bus and all these men were standing up straight around him," Keys Told the Daily News. "Taj is laying down on his back. I went up to him and he was in so much pain. He says, 'I can't see . . . I can't breathe.' "
(Charles Gross – YWN)