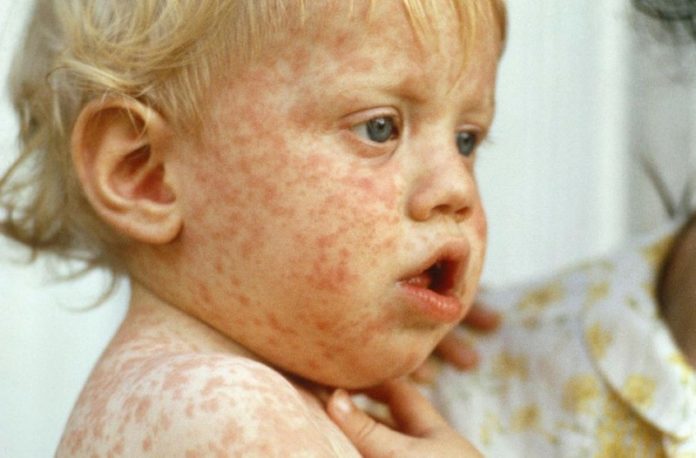 The measles outbreak continues to grow, thanks to the anti-vaxxers, and now some Shuls are sending a strong message to them.
According to TLS, a few Shuls in Lakewood have sent out letters to their Mispallelim that they should not bring anyone who was not vaccinated into the building.
A number of Lakewood schools have also taken a stance, and have informed their parent body that children who are not vaccinated are not permitted into school.
As of Friday morning, there are at least four confirmed cases of measles in Lakewood.
The following is a message that one of the Shuls sent out on Friday morning: 
"Attention Shul Members:
As you may know there has been an outbreak of measles which has now reached Lakewood. As per the Rov Shlita, anyone who is not vaccinated, adults or children, may not enter the shul under any circumstances. For the health and safety of our community we ask that everyone please comply."
Meanwhile, the NYC Health Department today is reporting 11 new cases of children with confirmed measles, bringing the total to 17. Chassidish communities in Williamsburg and Borough Park are affected. The children with measles range in age from 7 months to 4 years. Three infections, including the initial case of measles, were acquired by children on a visit to Israel, where a large outbreak of the disease is occurring. There has also been transmission in schools with children who are unvaccinated or incompletely vaccinated. There are no deaths associated with this cluster, although there have been complications including hospitalization.
On Thursday night, an unvaccinated 18-month-old baby was R"L was Niftar in Jerusalem from the Measles. Other member of the same family were confirmed to have been infected as well.
Meanwhile, in Rockland County, NY, more than 40 cases have been confirmed. Two children have been hospitalized – ONE IN INTENSIVE CARE – because of the measles outbreak, and the health department is taking more precautions to make sure it doesn't spread among students.
There have been dozens of stories published by YWN in the past few months of measles alerts issued by authorities involving Frum people who have not been vaccinated.
The Viznitz Monsey Girls School announced that any child who is not immunized, can't return to school for 21 days. No "religious exemption" is accepted. A religious exemption does not work when there is a measles outbreak.
Rockland County's Commissioner of Health, Dr. Patricia Schnabel Ruppert, announced Wednesday that all schools in the Village of New Square are now required to keep students who are un-vaccinated or under-vaccinated against the disease home until 21 days have passed since the last case of measles is confirmed in the county.
So far, the county has given more two thousand doses of the measles vaccine, referred to as MMR. Ruppert is urging parents to make sure their whole families vaccination history.
Measles is highly contagious, so anyone who is not protected against measles is at risk of getting the disease.
People who are unvaccinated risk getting infected with measles and spreading it to others, and they may spread measles to people who cannot get vaccinated because they are too young or have specific health conditions.
Individuals are considered protected or immune to measles if:
• they were born before 1957
• have received two doses of measles, mumps, rubella (MMR) vaccine
• have had measles confirmed by a health care provider
• or have a lab test confirming immunity
Symptoms include a fever, rash, cough, conjunctivitis or runny nose, and they could appear 10 to 12 days after exposure.
The virus can remain in the air or on surfaces for up to two hours.
To prevent the spread of illness, health officials are advising individuals who may have been exposed and who have symptoms consistent with measles to contact their health care provider, a local clinic, or a local emergency department before going for care.
(YWN World Headquarters – NYC)