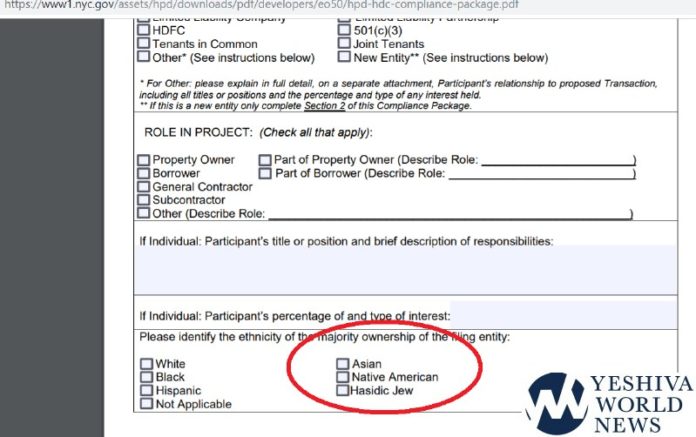 This is simply shocking.
On the NYC Housing Authority website, there is an application for HPD's "Compliance package". There is a question which states "Please identify the ethnicity of the majority ownership of the filing entity".
The choices are:
White, Black, Hispanic, Asian, Native America, Hasidic Jew, and Not Applicable.
NYC Councilman Chaim Deutsch tweeted the image along with the following text: "Hey @NYCHousing – is "Hasidic Jew" an ethnicity? That's news to me. Please explain this box in HPD's "compliance package" . I will be in contact with HPD tomorrow to get to the bottom of this"
NYS Assemblyman Simcha Eichenstein tweeted: "The first amendment grants Americans the right to freedom of religion. Shame on @NYCHousing for attempting to discriminate against Hasidic Jews."
Where are all the politicians in NYC to question this blatant anti-Semitism? They must be too busy condemning Councilman Kalman Yeger for rightfully stating that there is no country on earth called "Palestine", and for rightfully calling Rep. Ilhan Omar what she is – an anti-Semite.
Hey @NYCHousing – is "Hasidic Jew" an ethnicity? That's news to me.

Please explain this box in HPD's "compliance package" – https://t.co/bMCiTdOuzP

I will be in contact with HPD tomorrow to get to the bottom of this. pic.twitter.com/XsNJi3teGN

— Councilman Deutsch (@ChaimDeutsch) March 29, 2019
The first amendment grants Americans the right to freedom of religion. Shame on @NYCHousing for attempting to discriminate against Hasidic Jews.https://t.co/RRy4Oh6WIg pic.twitter.com/QTBfNu32hC

— Simcha Eichenstein (@SEichenstein) March 29, 2019
(YWN World Headquarters – NYC)