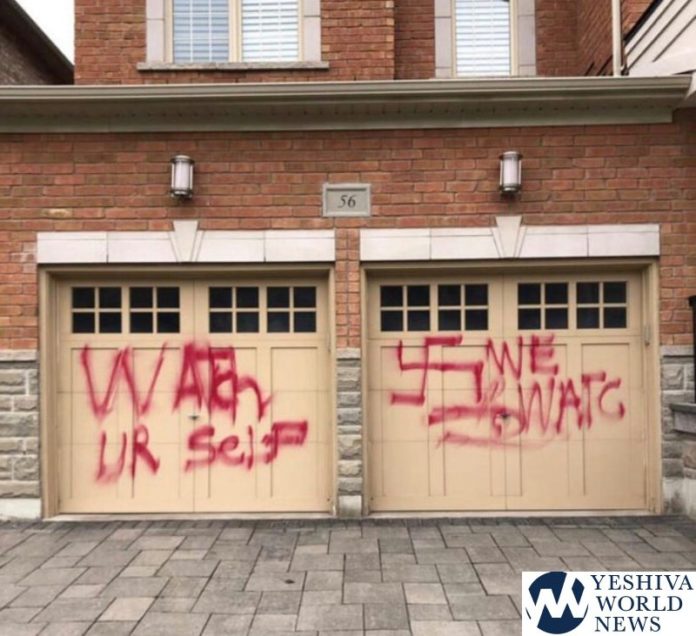 York Regional Police say they are investigating after anti-Semitic graffiti was found on a Vaughan home – just outside of Toronto – on Shabbos.
Police said they were made aware of the graffiti after receiving a call Saturday morning.
Images posted to social media show the phrases "watch [yo]ur self" and "we watc[h]", along with a swastika, spray-painted on the garage doors of a home.
Police didn't provide a lot of detail regarding the incident, but did confirm that the hate crimes unit is investigating.
Heartbreaking to see… again. Especially with another shooting inside a U.S. synagogue. And, at the end of Passover which commemorates Jewish liberation. #Thornhill remains strong yet vigilant. Report anything suspicious to @YRP https://t.co/rgssbuqbPR

— Gila Martow (@GilaMartow) April 28, 2019
FSWC monitoring this reported incident in Vaughn over the weekend. Communicating with police. ⁦@YRP⁩ ⁦@YRDSB⁩ ⁦@YRPDutyOffice⁩ ⁦@CdnPress⁩ pic.twitter.com/Cuj5OXBrut

— Avi Benlolo, President & CEO, Canadian FSWC (@avibenlolo) April 28, 2019
(YWN World headquarters – NYC)