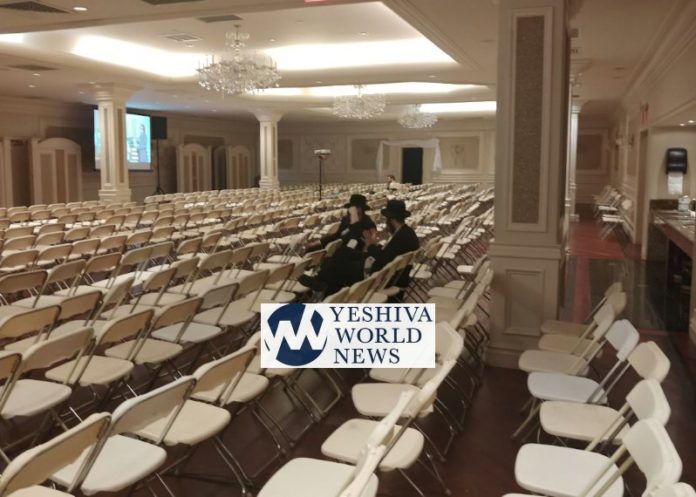 As of 9:30PM ET, a whopping 50 anti-vaxxers have shown up at the anti-vaccination symposium at Ateres Chynka Hall in Flatbush. The event was called for 8:00PM, with "buses leaving Williamsburg every 10 minutes".
With the NYPD standing guard outside, and with the media outside filming, the overflowing crowd of brave anti-vaxxers have shown up to hear dishonest conspiracy-theorist William Handler preach to them.
The anti-vaxxers were expecting to charge $12 admission to 1,300 people to cover the expense for the hall, the sound system company, massive screens, cars with loudspeakers riding around Flatbush, Boro Park, and Williamsburg announcing the event; the harassing robocalls made to tens of thousands of phone numbers, the signs hung on street-poles, and other expenses.
Hopefully, those people were all paid in advance…
[Message To All Those Attending Anti-Vaxxer Event in Flatbush Tonight: DRESS NICELY]
As YWN has been reporting, Flatbush was bracing for another epic Chillul Hashem by the anti-vaxxer cult and its guest speaker, dishonest conspiracy-theorist William Handler of Boro Park, who seems to be the Rabbi of the cult.
Many have been protesting this scheduled event by contacting the hall and voicing their outrage. Ateres Chynka says they were misled and was told by those renting the hall that this was some type of "Chinuch" event, and were never told that this was an anti-vaxxer event.
The FJCC (Flatbush Jewish Community Coalition) released the following statement denouncing the event:
The FJCC has consulted with Rabbonim and Roshei Yeshiva in Flatbush, including Rabbi Elya Brudny, Shlita, Rabbi Yisroel Reisman, Shlita, Rabbi Moshe Tuvia Lieff, Shlita and many others, about the anti-vaccination event scheduled for tonight in Flatbush. Under their guidance we release the following statement:
The Flatbush Jewish Community Coalition expresses our grave disappointment and dismay with the organizers and hosts of tonight's anti-vaccination event. The Flatbush community does vaccinate. The religious and lay leaders of our community are unanimous in encouraging vaccination.
We resent that participants are being bussed in from other neighborhoods. Our community will not participate.
While the Flatbush community and its Yeshivas have not suffered a measles outbreak, we do suffer from the anti-religious backlash caused by the ignorant few who tarnish our good name.
We beg you – stay in your own neighborhoods and out of Flatbush. The charlatans who will present tonight do not reflect the sentiment of the Flatbush Jewish Community.
And police… pic.twitter.com/6VQvYDVcdI

— Gwynne Hogan (@GwynneFitz) June 5, 2019
Reporters barred from entering… pic.twitter.com/kxGFLOonsM

— Gwynne Hogan (@GwynneFitz) June 5, 2019
YWN notes that William Handler previously spoke at another anti-vaxxer event in Rockland County, and made national headlines. The event caused such a Chillul Hashem, that both Satmar as well as Agudath Israel of America both issued statements of condemnation against Handler. Satmar of Williamsburg went so far as to place a full page proclamation in their weekly newspaper "Der Yid" slamming Handler.
[Message To All Those Attending Anti-Vaxxer Event in Flatbush Tonight: DRESS NICELY]
Previously, YWN noted that Handler claims to speak in the name of Hagaon HaRav Avigdor Miller ZATZAL, when in fact, YWN has confirmed with his children and grandchildren that he does not speak for them in any way shape or form.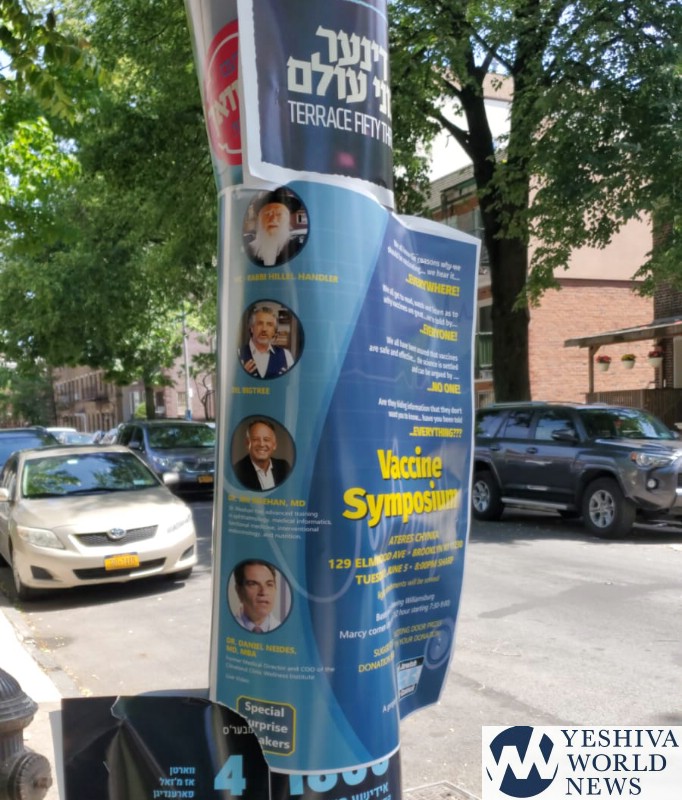 To hold an anti-vaccination rally in the middle of an outbreak is beyond irresponsible, it is downright dangerous. pic.twitter.com/TCL2aijfHF

— Commissioner Oxiris Barbot (@NYCHealthCommr) June 4, 2019
Bus load of people arrive for event- which apparently hasn't started until just recently. pic.twitter.com/doDDtlvoMb

— Gwynne Hogan (@GwynneFitz) June 5, 2019
Also this is the most disturbing flyer being handed out. pic.twitter.com/EJTJ6Nl1Hq

— Gwynne Hogan (@GwynneFitz) June 5, 2019
Deleted an earlier tweet of young woman who said her family was gonna kick her out of the house. — she was one of several who spoke about being intentionally exposed to measles.

— Gwynne Hogan (@GwynneFitz) June 5, 2019
(YWN World Headquarters – NYC)