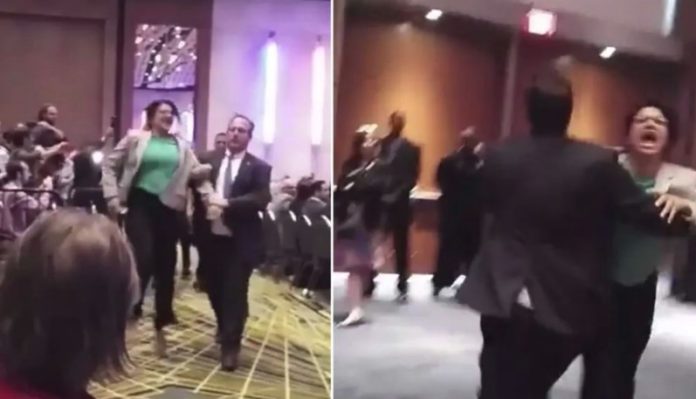 Years before Rep. Rashida Tlaib was speaking out against President Trump in Congress, she was shouting at him as Secret Service members dragged her out of a meeting at the Detroit Economic Club.
Video of the August 2016 incident, which has gone viral since resurfacing over the weekend, shows the current congresswoman shouting as then-candidate Trump delivered a speech before business leaders. While being escorted out of the room, she continued to jump and yell at those in attendance.
You guys are crazy!" Tlaib can be heard shouting. Someone off-camera can be heard responding, "You're an animal, get a job!"
Of course, she went on to get a job representing her district in Congress, but at the time she was working as a public interest attorney at the Sugar Law Center for Economic and Social Justice. Prior to that, she was a representative in the Michigan state legislature until she had to leave due to term limits, having lost a bid for state Senate.
*****PLEASE NOTE: If you do not already follow YWN on WhatsApp status, you should join the more than 25,000 that already do and never miss a story again! Click this link – or send a message to 1-888-4-YW-NEWS (888-499-6397) – to see our status posts.*****
My god! Tlaib back in 2016. pic.twitter.com/7RNRpv32TO

— Rita Panahi (@RitaPanahi) July 20, 2019
(Source: Fox News)