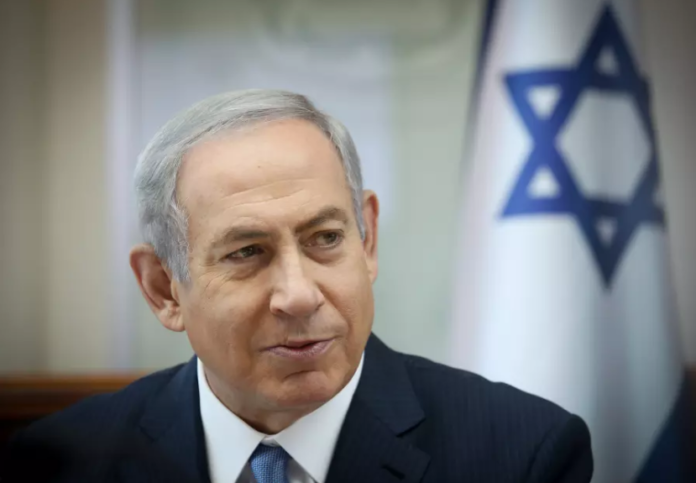 A blaring red alert indicating rocket fire from Gaza interrupted Prime Minister Binyamin Netanyahu's campaign event in Ashdod on Tuesday night. He was forced to stop his speech and was whisked away by a cohort of security guards to a sheltered room. The incident prompted scornful reactions from politicians on both the right and left, with critics claiming that despite Netanyahu's assertion that he is strong on security versus the left, he has failed to stand up to Hamas and other terror organizations.
According to political analysts, Gaza terror organizations specifically targeted the Israeli cities in the south, well-aware of the political rallies taking place there. Chief of Staff Gabi Ashkenazi was also holding a campaign event at the time in neighboring Ashkelon but finished his speech as the sirens blared, placing himself and the audience in danger.
Later, Blue and White chairman Benny Gantz derided Bibi for interrupting his event to take cover in a sheltered room, bragging that Ashkenazi continued his event as if nothing was happening. He chose to ignore the fact that Ashkenazi's actions violated Home Front instructions. Furthermore, Netanyahu, as the prime minister, is obligated to follow the instructions of his security guards.
Gantz directed a timely gibe at Bibi by writing on Twitter later that night: "Maybe now Netanyahu was convinced that there are places where it's preferable not to have cameras." Gantz was referring to the controversial camera bill to place cameras in all voting stations, which Netanyahu strongly promoted but was knocked down by a Knesset committee from advancing to legislation. The campaign event in Ashdod was streamed on Facebook Live and the scene of Netanyahu being whisked off the stage by security guards proved to be politically damaging.
"Our hearts are with the residents of the south this evening," Gantz wrote before taking another gibe at Netanyahu's announcement on Tuesday that he will apply sovereignty to the Jordan Valley, which was criticized by his rivals as being an empty election promise. "Today we saw how lofty words are replaced by zero action. Instead of making meaningless declarations on the Jordan Valley, we intend to protect our sovereignty in the south. We won't accept any violation of sovereignty – not missiles, not [terror] kites, and not rockets. We'll restore deterrence."
Right-wing Yamina leader Naftali Bennett tweeted, "The prime minister leaves the stage in the middle of a speech because they're firing rockets at him. This is a national humiliation. Hamas has stopped fearing Israel. Israel's security must be restored through the liquidation of Hamas leaders, not by press conferences."
Yisrael Beiteinu chairman Avigdor Liberman wrote on Twitter that he was also in Ashdod on Tuesday night, at a meeting with activists, and was forced to leave when the red alert was heard. "The incident today proves that Netanyahu's policy of submission to terror has gone bankrupt," he wrote.
During a discussion in the Knesset on Wednesday, Netanyahu referred to the attacks on him, saying: "I heard the shouts of joy from Lapid and Gantz. I don't know where they rejoiced more [when they fired on Ashdod] – in Gaza or by Lapid and Gantz. Such happiness is a disgrace."
The Likud party responded to the attacks on Netanyahu earlier on Wednesday morning by sharply condemning the Blue and White party, which includes three former IDF chiefs of staff – Benny Gantz, Gabi Ashkenazi and Moshe Ya'alon – for gloating over the prime minister of Israel being fired on by Hamas.
"A low point of the elections," a statement on Likud's Twitter account said. "Three former IDF chiefs of staff gloating over fire on the prime minister of Israel. Shameful."
"To the prime minister's credit, he responded calmly and didn't show pressure," the Likud continued. "Despite the fact that his security guards pressured him to immediately leave the stage, he first calmed the audience and instructed them what to do."
(YWN Israel Desk – Jerusalem)