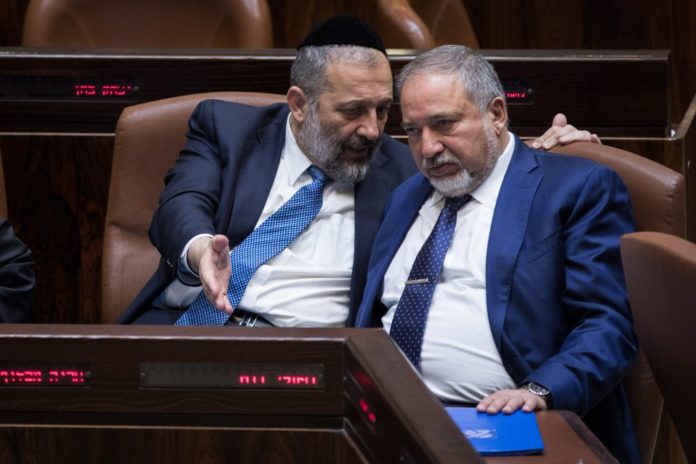 Netanyahu: "Gantz refused to accept the condition demanded by Lieberman" – Chairman of Blue & White: Give up on the bloc and enter into direct negotiations – Lapid: "After refusing all offers of achdus, Bibi says 'Gantz refused'. This man has no limits" – Deri" Yair, Enough with the lies! The single reason there isn't achdus is that you prevent Gantz from agreeing."
The Chairman of Blue & White, MK Benny Gantz, once again called on Prime Minister Binyamin Netanyahu to give up on maintaining his right-wing bloc, which Gantz refers to as his "immunity bloc".
"This morning, it is time to tell it like it is. Binyamin Netanyahu is the person preventing achdus and sending us to new elections for a third time within a year," exclaims Gantz. "Today I call on Netanyahu again. Accept the results of the election that you and the public are well aware of. Give up on the immunity bloc and come to direct negotiations to formulate guidelines of the two major parties. I will be willing to make concessions for the citizens of Israel, but I will not give up on our main principles."
PM Binyamin Netanyahu responded: "Blue & White did not agree to the president's initiative until today, including his explicit decision to form a broad national unity government. At the same time, they insist on their bloc, which they built with supporters of terror of the Joint Arab List, with the goal of forming a minority government.
The person holding the second slot on Blue & White, MK Yair Lapid, addressed coalition talks on twitter. "A new record. After refusing every offer for achdus that we put before him, Bibi says 'Gantz refused'. This man knows no limits. Lieberman knows the truth. Bibi clings to the chareidi-messianic bloc and is leading us to elections with all his might."
Aryeh Deri responded to Lapid: "Yair, enough with the lies! You were willing to give us everything and sign a document accepting the status quo which said we would leave Netanyahu and join you. The only reason there is not a unity government is because you are preventing Gantz from agreeing to the president's initiative and because you insist Netanyahu will be second in [the premiership] rotation."
Earlier in the morning, Prime Minister Binyamin Netanyahu called on Avigdor Lieberman to permit the establishment of a right-wing government. This is because of the failure in talks between him and Blue & White Chairman MK Benny Gantz to advance towards a coalition government.
"Unfortunately, last night, in our talks, Gantz refused to accept the Avigdor Lieberman's demands – to accept the presidential initiative by which I am prime minister first in the rotation. Liberman said he would accept this. Now we have to wait and see if he keeps to his commitment."
At present, both parties are waiting to hear what Lieberman decides. He is expected to announce his decision at 1:00PM.
The presidential mandate given to MK Benny Gantz expires tonight at midnight.
(YWN Israel Desk – Jerusalem)