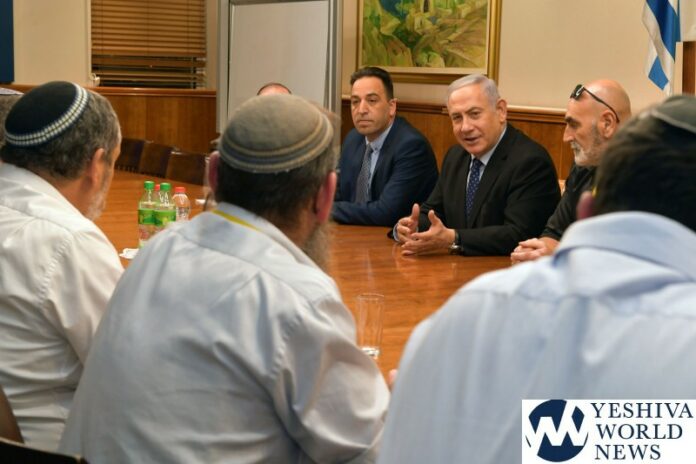 In a meeting with various leaders from Judea and Samaria that was held at the Prime Minister's Office on Thursday, Prime Minister Binyamin Netanyahu told the leaders that the government will approve the budget of 40 million NIS that is slated for the security teams and MDA in the region this coming Sunday. The budget is divided into two major sections, 34.5 million NIS for security development in the region and 5.5 million for MDA to improve their ambulance stations and teams throughout Judea and Samaria.
"This is a day of two good tidings," Netanyahu said. "First of all, we destroyed the homes of the murderers of the late Dvir Sorek. Secondly, we are continuing to strengthen and help the settlements. No one will uproot us from here."
The budget ratification for the security infrastructure and for MDA services follows upon previous decisions made to allocate the money. In addition to those budgets, an additional sum of 3.6 million NIS is to be allocated to the civilian resiliency centers in the region. This decision awaits the agreement by the cabinet and is slated to be discussed this Sunday during their weekly meeting.
Ronen Peretz, the Acting Director-General of the Prime Minister's Office elaborated on the allocation: "On Sunday, the government will decide to approve the budgets allocated for security needs of the communities in Judea and Samaria as well as the budget for Magen David Adom services in Judea and Samaria. An additional NIS 4 million for the community resilience centers in Judea and Samaria, who assist the populace in coping with the  traumas that they face every day in Judea and Samaria and to expand their activities as the population there grows."
David Elhayani who presides over the Yesha Council thanked the Prime Minister for his efforts. "You once again prove your loyalty, your determination and your persistence in developing the settlement in Judea and Samaria and the Jordan Valley. I would also like to thank the director-general of your office for helping to raise funds for security and resilience centers, and also for the money for MDA. We trust you, we thank you for your help in developing the settlements, and we wish to strengthen your hands."
(YWN Israel Desk – Jerusalem)