Two men were killed on midday Tuesday when their light plane crashed in an open area and burst into flames near Kibbutz Mishmar HaNegev, north of Be'er Sheva.
The two were identified later as an Israel Air Force (IAF) officer and cadet. The officer had served as the commander of an F-16 squadron until recently and the cadet has been training as a cadet for the past four months. The aircraft was a 'Snunit' Grob G 120A plane commonly used for pilot training.
IDF spokesperson Hedi Zilberman said that there was no communication from the pilot prior to the crash. "It's not clear if it was a result of a technical malfunction or human error," he said. "To the best of our understanding, there was no communication between the plane and the tower and the weather conditions were good."
IAF commander Amikam Norkin ordered that a team be formed to investigate the incident and has halted all training flights until further notice.
1–> המטוס שהתרסק הבוקר באימון הדרכה של בית הספר לטיסה הוא מטוס קל מסוג גרוב G-120A שמכונה בצה"ל "סנונית". 27 המטוסים הללו נכנסו לשירות בחיל האוויר בשנת 2002 ומשמשים בין היתר לשלבי מיון פרחי טייס במהלך לימודיהם באקדמיה@ynetalerts pic.twitter.com/mJNuy3Cjct

— איתי בלומנטל Itay Blumental (@ItayBlumental) November 24, 2020
Israel's Fire and Rescue Services, Magen David Adom, and an Israel Air Force helicopter arrived at the scene and pulled the two men from the crash site for medical treatment. But unfortunately, it was too late and they were forced to declare their deaths at the scene
"At 11:32 a.m. the MDA emergency 101 call center received a report of a plane which had crashed near Mishmar Hanegev," Magen David Adom stated. "MDA paramedics and first responders report that there were two men found unconscious."
"We arrived at the scene and saw the plane burst into flames," said Ichud Hatzalah volunteer Yanky Weinberg. "After we extinguished the fire we saw the difficult scene [the critically injured men] and the parts of the planes scattered throughout the area."
Officials have not yet been able to identify the plane due to the extensive damage suffered during the crash and ensuing fire.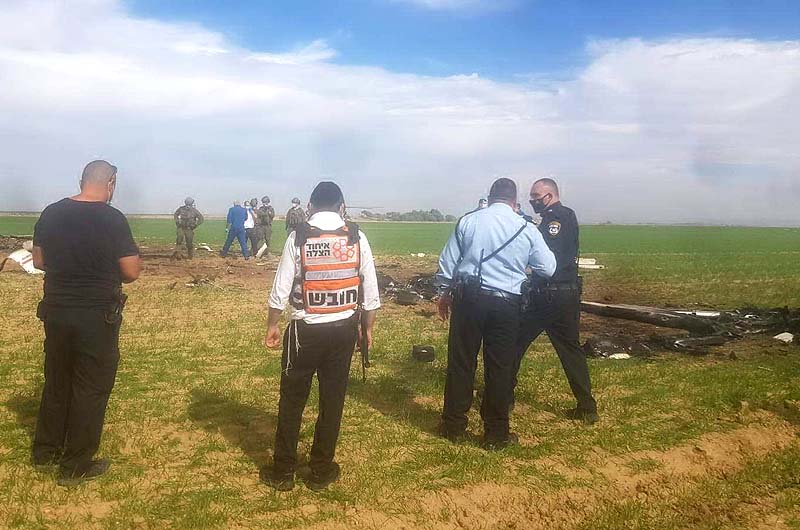 (YWN Israel Desk – Jerusalem)