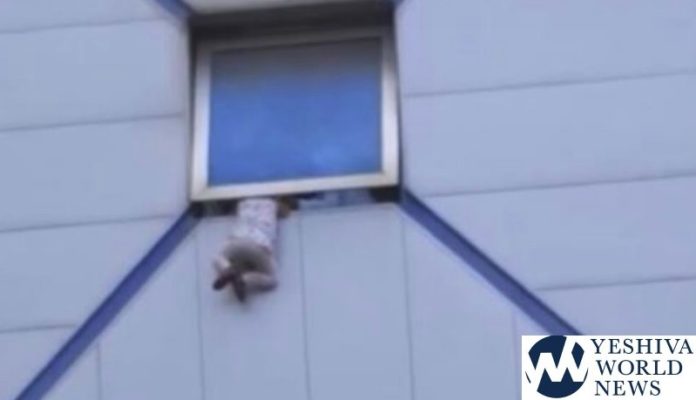 (VIDEO IN EXTENDED ARTICLE)
On Tuesday morning, a toddler, who is in daycare in the national center of Ezer Metzion in Bnei Brak, climbed upon some physiotherapy beds and then climbed out of a nearby window some two stories in the air. According to a live video feed inside the room, she was caught from falling to the street dozens of feet below when the window closed on her head and held her dangling above the street. Passersby and police rushed to the scene to try to save the toddler before she was eventually pulled back up through the window by staff from the daycare.
In a public statement issued by Ezer Metzion the organization said: "This is the first situation of its kind that we have ever experienced. The professional staff saw the situation occurring and worked quickly to rescue the toddler who was left unharmed after the event. It is important for us to point out that this particular daycare is for children who are mentally and developmentally challenged that operates under strict security protocols as set down by the education ministry. We are investigating the incident and will make certain that nothing like this ever happens again."
Ezer Metzion runs a total of 8 kindergartens, 19 daycares, and 5 clubhouses for children with developmental challenges throughout Israel.
(YWN Israel Desk – Jerusalem)