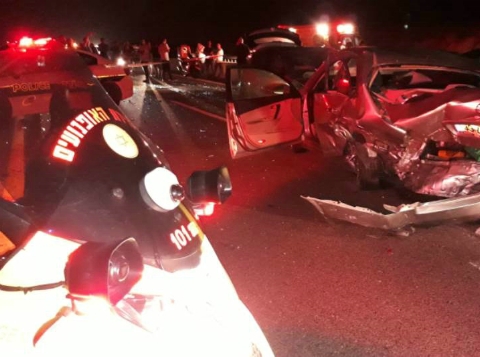 (VIDEO IN EXTENDED ARTICLE)
Emergency Medical Service Personnel from Magen David Adom and United Hatzalah responded to a call for help after a vehicle collided with a pedestrian on Highway Two, just south of Haifa at the Atlit Interchange.
Ambulance crews and first responders from both organizations responded to the initial emergency. As they were treating the pedestrian who was seriously injured and the driver of the vehicle who was lightly injured, a passing car rushed by and hit a group of the first responders.
A female paramedic from Magen David Adom was moderately injured in the second crash, along with an EMT from United Hatzalah. Another five people, among them three other volunteer EMS personnel sustained light injuries. Secondary response teams were called in to treat the injured first responders and transport them to the hospital.
Haifa Chapter Head of United Hatzalah Naftali Rotenberg relayed from the scene: "While volunteer EMS personnel were treating the injured from the original accident, an ambulance team from United Hatzalah, a pedestrian, a paramedic from Magen David Adom as well as volunteer EMTs from United Hatzalah and Magen David Adom were all injured when another car rushed passed the scene injuring them. The pedestrian, as well as the original drivers and EMS responders, were all transported from the scene and taken to the nearest hospital."
(YWN Israel Desk – Jerusalem)