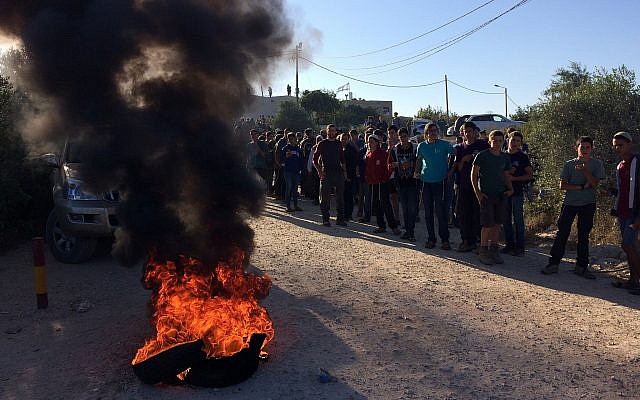 On Wednesday evening, magisterial courts in Petach Tikvah and Jerusalem instructed police to release all of the protesters who were arrested during the evacuation of the Netiv Avot homes yesterday. Those arrested were to be released on terms limiting their activities and movements.
Three people arrested at the protest were brought to Jerusalem's magisterial court, two of whom were already released earlier in the morning. All three had to agree to stay away from Netiv Avot for a minimum of 7 days and they had to bring guarantors who would vouch for them and their whereabouts. The third individual, a minor was released later in the day on the same terms. Attorney David Levy, from the organization Honenu, represented those arrested.
In Petach Tikvah, the magisterial court released two girls and one boy all of whom are minors, and each according to different terms. the terms included different time periods in which the youths had to stay away from the area and also demanded that they too have guarantors safeguarding their actions.
Attorney Adi Keidar from Honenu represented the teens and said following the decision: "The Israeli police have acted here without any remorse whatsoever. They remanded two very young girls and a young boy, none of whom have any criminal backgrounds, nor have they been remanded or arrested for any cause before. They left them for an entire night and part of a day in prison, with all that was involved in that. They then herd them into the courthouse who releases them without any real conditions. This is simply scandalous behavior which can cause these young people serious damage. The country really needs to do some introspection and, especially when we are dealing with a peaceful protest surrounding an evacuation that took place without a hitch and went smoothly and quietly. There is no reason based on what happened to have arrests nor to include serious conditions for release.
At the time of the writing of this article, the Police had not yet given a response.
(YWN Israel Desk – Jerusalem)