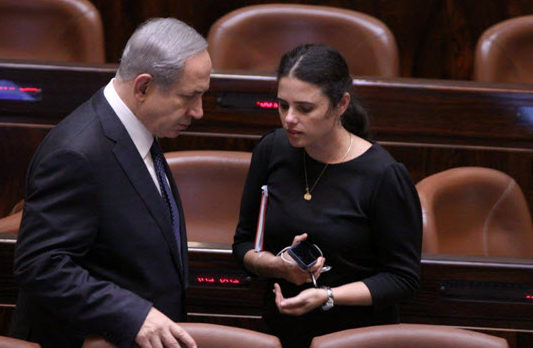 Speaking with Yediot Achronot in an interview to be published in the Shabbos edition, which is published on Friday, Justice Minister Ayelet Shaked explained that experience has taught the party that they have to use stern means in their dealings with Prime Minister Binyamin Netanyahu. That said, she admits that making the public ultimatum, to appoint Naftali Bennett to the post of Defense Minister or the party will leave the coalition, was an error.
She explains that you do not win every battle, and they may have lost in this case, and erred, but they are learning from their mistakes.
She does come to Bennet's defense however, stating that he would be good for the post and is qualified to serve as Defense Minister, adding she is opposed to Prime Minister Netanyahu handling it, as she explains it is an extremely difficult position that demands a fulltime minister. Shaked points out that PM Netanyahu also hold other ministerial posts and adding the Defense Minister's job is simply too much.
Currently, PM Netanyahu serves as Prime Minister, Foreign Minister, Health Minister, Defense Minister, and Absorption Minister.
(YWN Israel Desk – Jerusalem)