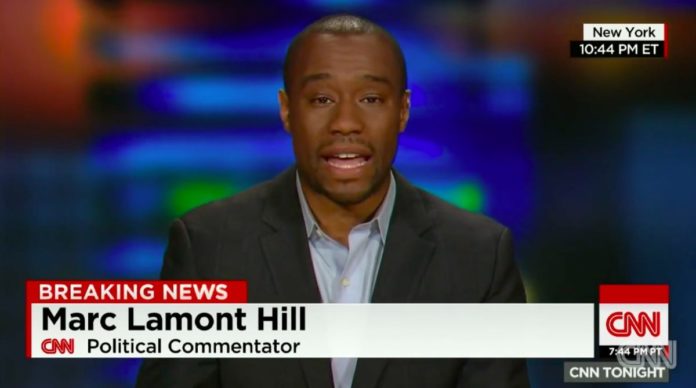 CNN on Thursday parted ways with contributor Marc Lamont Hill after a speech the college professor made on Israel and the Palestinians at the United Nations.
A CNN spokesperson confirmed Hill is no longer under contract. The network did not give a reason, but the move comes amid objections to Hill's speech by the Anti-Defamation League and other groups.
Hill, a professor of media studies at Temple University who had been a recurring political commentator on CNN, called for countries to boycott and divest from Israel in the Wednesday speech given for the UN's International Day of Solidarity with the Palestinian People.
"We have an opportunity to not just offer solidarity in words but to commit to political action, grass-roots action, local action and international action that will give us what justice requires and that is a free Palestine from the river to the sea," Hill said in the speech.
CNN's Marc Lamont Hill appears to call for violence against Israel and for the elimination of Israel, says, "Justice requires a free Palestine from the river to the sea."

The phrase "from the river to the sea" is a phrase used by those who believe Israel should be eliminated. pic.twitter.com/26TL205Ylb

— Ryan Saavedra (@RealSaavedra) November 28, 2018
The ADL and others said the "river to the sea" phrase is code for the destruction of Israel often used by Hamas and terror groups bent on its destruction.
"Those calling for 'from the river to the sea' are calling for an end to the State of Israel," the ADL's Senior Vice President for International Affairs, Sharon Nazarian, said in a statement, adding that the annual event at the UN "promotes divisiveness and hate."
Hill referred to the Palestinians as "an occupied people", and said he boycotted Israeli water on a recent trip to the country.
CNN's Marc Lamont Hill also said at the U.N. that he refuses to drink Israel's water pic.twitter.com/r5DbcX0Qdn

— Ryan Saavedra (@RealSaavedra) November 29, 2018
Hill sent a series of tweets responding to his firing and defending his speech.
"My reference to 'river to the sea' was not a call to destroy anything or anyone," Hill said on Twitter. "It was a call for justice, both in Israel and in the West Bank/Gaza. The speech very clearly and specifically said those things."
"I support Palestinian freedom. I support Palestinian self-determination," Hill tweeted, adding, "I do not support anti-Semitism, killing Jewish people, or any of the other things attributed to my speech. I have spent my life fighting these things."
A Congresswoman-elect, of Palestinian heritage, defends Hill:
Calling out the oppressive policies in Israel, advocating for Palestinians to be respected, and for Israelis and Palestinians alike to have peace and freedom is not antisemitic. @CNN, we all have a right to speak up about injustice any and everywhere. @marclamonthill https://t.co/YT49WCxVbo

— Rashida Tlaib (@RashidaTlaib) November 30, 2018
Hill said in 2008 while on Fox News that he couldn't be sure if Hitler-worshipper Louis Farrakhan was an "anti-semite" and said that Farrakhan's quote calling Judaism a "gutter religion" was taken "out of context" pic.twitter.com/eEPeVtEno7

— Ryan Saavedra (@RealSaavedra) November 28, 2018
I was honored to sit with my beloved brother @marclamonthill for a wonderful conversation. pic.twitter.com/CdDFPXvin7

— MINISTER FARRAKHAN (@LouisFarrakhan) August 11, 2016
Yup. We orchestrated @marclamonthill's appearance at the UN and put him in a trance-like state, forcing him to embark on a 21-minute televised rant in which he openly endorsed Palestinian violence against Israelis and called for Israel's eradication. We are JUST THAT GOOD. pic.twitter.com/ALvSTzFw25

— Avi Mayer (@AviMayer) November 30, 2018
(AP)