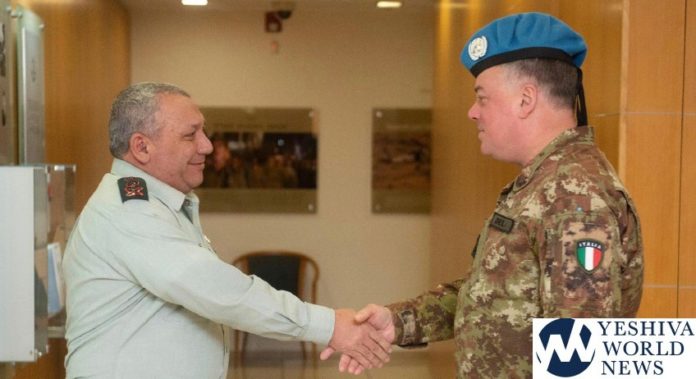 IDF Chief of Staff Lt.-General Gadi Eizenkott met with the commander of UNIFIL forces stationed in Southern Lebanon, General Stefano Del Col on Sunday, as the IDF's Operation Northern Shield continues along the border, the operation to detect and destroy Hezbollah terrorist tunnels connecting from Lebanon to Israel.
Eizenkott has emphasized that the tunnels constructed by Hezbollah represent a serious violation of UN Resolution 1701, which brought about the ceasefire that stopped the Second Lebanon War. The IDF commander explained the tunnels were intended to permit Hezbollah launch surprise terror attacks in N. Israel.
Eizenkott, presented the progress of the operation and noted the importance he sees in UNIFIL's efforts to neutralize the tunnels on the Lebanese side and prevent violations by the terrorist organization. The chief of staff stressed that the responsibility for the tunnels being dug by Hezbollah in Southern Lebanon rests with the Lebanese government.
(YWN Israel Desk – Jerusalem / Photo Credit: IDF Spokesman Unit)