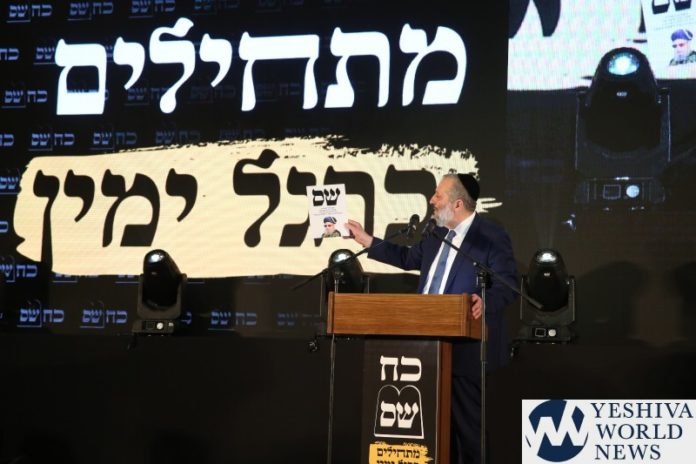 The Shas party on Thursday, announced it was undertaking a campaign to open 'Beit Shas', hoping to reach NIS 5 million in funds.
This week, the Shas movement began a mass mobilization of its members and supporters in order to establish a permanent home for the party after the elections, a facility that handle the many needs of the movement and its hundreds of representatives throughout the country. Such a permanent home will give Shas a lot of strength and momentum according to party officials, as there will be a facility that serves as a single address for hundreds of thousands throughout the country on every issue.
The initiative was initiated by Shas Chairman Aryeh Deri, with the full backing of the head of the Moetzas Chachmei HaTorah, Chacham Shalom Cohen, who also instructed that it be possible to donate this money from the ma'aser funds since all of Shas' work is 'avodas kodesh', to increase the awareness and adherence to tradition, to Torah and mitzvos and a Jewish education, working to assist the weaker economic population in particular towards achieving this goal.
The need for the move stems from the heavy financial expenses currently being imposed on the movement's management, due to old debts paid in recent years, and due to the municipal elections, that have just ended, causing large expenses that have also been paid recently. And because of the many expenses involved in the 2019 campaign.
Party officials explain the mobilization of the masses will provide essential resources for movement, exit the cycle of payments and create the possibility of building a permanent home, as befits Shas.
A Shas statement to the media concludes, "During the decades of its existence, Shas did not appeal to the public for financial aid, neither to the party nor to its many institutions, nor to membership dues as is customary in other parties, to support the large enterprise established by Maran HaGaon HaRav Ovadia Yosef ZT"L.
"The target is NIS 5 million. The activity is carried out by representatives of the movement and prominent activists, in close and wide circles. Donations are collected according to existing legal restrictions – up to NIS 2,300 per household, including a couple and children on their desks. The donors will receive a special 'membership card' in the Shas movement and all the holy activities and education that will be carried out by the movement will be credited to them".
(YWN Israel Desk – Jerusalem)