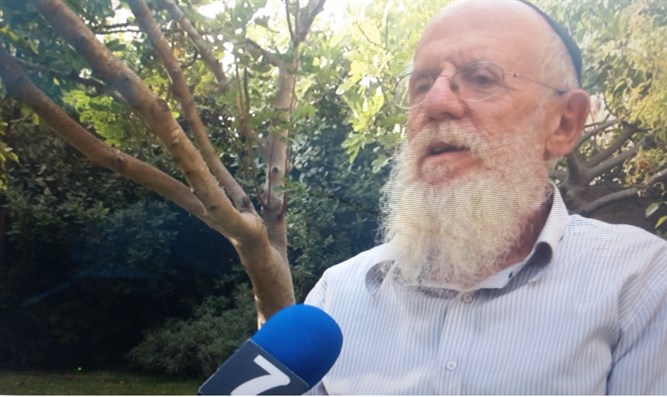 Rabbi Yaakov Medan, Rosh Yeshivat Har Etzion on Thursday, spoke out regarding efforts for right-wing achdus ahead of elections for the 21st Knesset, with Election Day scheduled for April 9, 2019.
Rav Medan expresses cautious optimism regarding a draft agreement that has been drawn up towards unity between Bayit Yehudi and Ichud Leumi. Bayit Yehudi Chairman Rabbi Rafi Peretz on Thursday reportedly signed the agreement, albeit with objections, adding he hopes Betzalel Smotrich of Ichud Leumi will also sign.
Rav Medan then shifted to efforts to sign with Otzma Yehudit, headed by Dr. Michael Ben-Ari, a talmid of Rabbi Meir Kahane HY"D. Rav Medan told Reshet Bet Radio on Thursday afternoon, February 14, 2019, that there is nothing to speak about with Otzma Yehudit until Itamar Ben-Givir removes the picture of Baruch Goldstein from his office and home, and to guarantee that it will not be returned in the future for Bayit Yehudi cannot identify with such a message.
Rav Medan added, "I am totally opposed to the path of Otzma Yehudit, and I will agree to run together with Otzma Yehudit with the understanding we are dealing with a technical bloc, due to the pressure of the minimum threshold, all based on one condition which must be adhered to without condition. In the home of Itamar Ben-Givir, there is a picture of Dr. Baruch Goldstein who shot and killed 29 Arabs in the Ma'aras HaMachpelah. The youth sees such a picture and we must not agree in any way that a youth will come to the conclusion that this path is legitimate".
Attorney Itamar Ben-Givir responded via the dati leumi Srugim website, stating, "I am happy hearing that finally, the National Religious Party has established a Rabbinical Committee which inspects pictures in the living room, or perhaps in a bedroom.
"I hope that the honorable rabbi assumes that I greatly appreciate him. He did not examine the pictures in Naftali Bennett's living room. The picture of Dr. Baruch Goldstein is hanging in thousands of homes, including mine, since Dr. Goldstein was a doctor who saved the lives of dozens of Jews, including my personal friends".
"In a technical bloc, no one is supposed to be angry with anyone, and I suggest that we do not start looking at the pictures in the living room, which begins with pictures and may end with a head covering, a sleeve length, and other things. I don't ask Bayit Yehudi to be like me, but I do ask that one respects the other".
(YWN Israel Desk – Jerusalem)