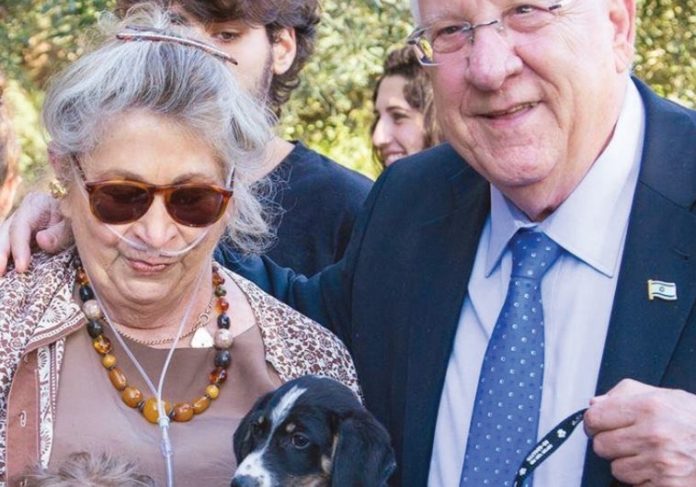 Israel's First Lady, Nechama Rivlin, has undergone a single lung transplant at Beilinson Hospital in Petach Tikvah on Monday morning. As is normal after a procedure like this, Mrs. Rivlin is sedated and, on a respirator, until she recovers and is able to breathe unassisted. She is in a stable condition and is surrounded by close family.
Lung transplants are life-saving operations that allow patients with terminal pulmonary disease to resume a full life without depending on an external oxygen supply.
The complex procedure took several hours and was performed by Professor Dan Aravot, Director of the Department of Cardiothoracic Surgery at Beilinson, assisted by Nechama's personal physician Professor Mordechai Kramer, Director of the Institute of Pulmonary Medicine at Beilinson.
Nechama required this operation because she has been suffering from pulmonary fibrosis for several years. The transplant took place after a long period of waiting.
The donor was the family of a 19-year-old drowning victim in Eilat. The family wishes Mrs. Rivlin a total recovery.
President Reuven Rivlin and the whole family thank the dedicated medical team for their warm and professional care throughout the process. Updates regarding Nechama's progress will be issued by Beit HaNasi as necessary.
Professor Mordechai Kramer and the hospital provided the following background information on the disease and procedure.
Patients with terminal pulmonary disease who can no longer be treated with medication are candidates for lung transplant.
There are a number of diseases that lead to the degeneration of the lungs over time. Some patients for whom medication is not effective will undergo transplant. These patients are offered a new lease on life and are able to lead a full life after the transplant. Pulmonary diseases that may lead to transplant include pulmonary fibrosis, emphysema, cystic fibrosis and pulmonary arterial hypertension.
For patients with pulmonary fibrosis, degeneration of lung tissue leads to scarring of the lungs which blocks oxygen from entering the body. In many cases, the cause of scarring is not known, but in some cases, it is caused by inhalation of materials such as metals, marble or asbestos.
Quality of life after transplant
After leaving hospital, the transplant recipient takes anti-rejection medications on an ongoing basis, but apart from that returns to an absolutely normal way of life.
Patients whose transplant is successful generally no longer need oxygen treatment. Their blood oxygen levels are good, lung capacity is greatly increased, and airflow returns to normal levels. After a period of recovery, almost all patients return to full health with good exertion tolerance and can go back to work and full athletic activity.
The life expectancy of lung transplant recipients is increasing over time: until 20 years ago, their average life expectancy was five years. Currently, the average life expectancy is 10-15 years for patients who take their medication, have regular check-ups and exercise.
Outcomes of lung transplants at Beilinson, the only hospital in Israel that performs the operation, are in line with the leading medical centers in the world in this field.
(YWN Israel Desk – Jerusalem)