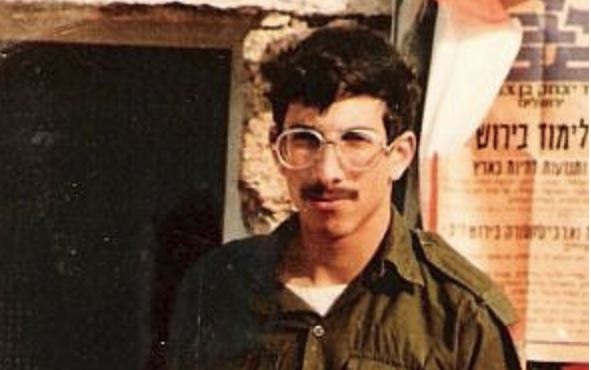 The Israeli army on Wednesday said it had recovered the body of a soldier who went missing in a bloody 1982 battle with Syrian forces in southern Lebanon, closing a famous case that has plagued Israel for nearly four decades.
Lt. Col. Jonathan Conricus, an Israeli military spokesman, told reporters that the remains of Zachary Baumel had been returned to Israel and identified after years of "significant intelligence operations."
Conricus declined to elaborate on how the return was arranged or where the remains were found, saying only that "an opportunity arose to locate the body" through an unnamed country.
Baumel, a U.S. citizen from New York, went missing in action along with five other Israeli soldiers near the Lebanese village of Sultan Yacoub.
Several years later, two of the missing soldiers were returned alive to Israel in prisoner exchanges with Syria, but the fate of the other three had remained unknown.
In a nationally televised speech, Israeli Prime Minister Benjamin Netanyahu said that Baumel's remains, along with his clothing and Tzitzit had been returned to his family in Jerusalem.
Netanyahu said that Baumel was "full of Zionist zeal" that led him to Israel and to the battle where he disappeared. He recalled the pain of his late father, who "traveled the world to track down any peace of information about his missing son."
[REMARKABLE: Allusion to Recovering Body of Zechariah Baumel HY"D Found in Navi Melachim II]
Osnat Haberman, Baumel's sister, told Netanyahu: "I told my mother years ago that it was not enough to want and to search. There needs to be someone with the winning card and now you have brought it."
Cases of missing soldiers have a powerful emotional and political resonance in Israel, where military service is compulsory for most Jewish men. In his remarks, Netanyahu lauded the repatriation of Baumel's remains as an "expression of mutual responsibility and feeling of unity" that epitomizes Israel. He described the homecoming as a "moral obligation" to fallen soldiers and their families.
After 37 years, Sgt. 1st Class Zachary Baumel has returned home to Israel. pic.twitter.com/9Mroebhz41

— Israel Defense Forces (@IDF) April 3, 2019
Zachary Baumel was born in Brooklyn New York on November 17, 1960. He is the youngest son of Yona and Miriam Baumel.
Until the age of ten, Zachary attended the Hebrew Institute of Boro Park (also known as Yeshivat Etz Chaim). Then in 1970, Zachary and his family immigrated to Israel.
After graduating high school, Zak chose to do his military service in the Israel Defense Forces (IDF) Hesder framework, which combines religious studies and army service. Zak split his time between religious studies at *Yeshivat Har Etzion in Alon Shvut, and the I.D.F. Armored Corps, where he eventually became a tank commander. During this period, while continuing to be an exceptional basketball player, Zak began to seriously invest himself in his studies. He was subsequently appointed dorm counselor for American students who had come for a year of study, who needed assistance in adjusting to the rigorous program of study at Har Etzion. Many of the most active members of the campaign to secure the release Zachary and his colleagues were his fellow students during this period.
Zachary had nearly completed his military service, when he was called up to serve in the Lebanon War. He has been accepted for the coming semester at the Hebrew University in Jerusalem, and was planning to study psychology. During that fateful summer of 1982, he had also secured a job working with youth from abroad as part of a Jewish Agency program. On June 11, 1982, just hours before the declaration of a cease-fire, Zak and his colleagues were sent into battle near the Lebanese village of Sultan Yaqub. 21 Israelis were killed that day, and many more were injured. Three soldiers — Zachary Baumel, Zachary's dog tag Tzvi Feldman and Yehuda Katz, went missing.
Zak's last message to his parents, delivered on a postcard shortly before the battle, asked for a few personal items and concluded with a brief note of assurance to his worried parents: " Don't worry, everything is okay, but it looks like I won't be home for a while."
Prime Minister Netanyahu told the family members: "Usually for bereaved families life is divided into two: Before and after. For you life is divided into three: Before, during and now. We have made good on our commitment." pic.twitter.com/dZDXDPa5kW

— PM of Israel (@IsraeliPM) April 3, 2019
Anwar Raja, a Syria-based official with the Palestinian terror group PFLP-GC, said that insurgents excavated graves in the capital of Damascus last year in search of the remains of the three missing Israeli soldiers. He said that their remains had been transferred to Syria after the 1982 battle.
Lebanese politician Walid Joumblatt, a harsh critic of the Syrian government, hinted in a tweet Wednesday that Syrian authorities were responsible for the return of the Israeli soldier.
"Handing over the remains of the Israeli soldier through unknown mediators is a free and valuable gift to Netanyahu in his elections," Joumblatt tweeted.
Israel holds its general election next week, largely seen as a referendum on Netanyahu's rule.
Joumblatt poked fun at the Syrian government, adding sarcastically: "Greetings to the Syrian regime that is spearheading Arab, regional and international rejectionism."
The disastrous battle, which occurred soon after the Israeli invasion of Lebanon, resulted in the deaths of 20 Israeli soldiers.
The military confirmed it was still working to secure the return of the other two missing soldiers.
FULL STATEMENT BY PM NETANYAHU: 
"Citizens of Israel, this is one of the most moving moments in all my years as Prime Minister of Israel. A few days ago, the remains of the body of IDF soldier Sgt. First Class Zachary Baumel were brought to Israel. Zachary fell in the battle at Sultan Yacoub during Operation Peace for Galilee; he was considered missing for 37 years.
During all of these years, the State of Israel invested vast efforts in solving the riddle of his fate and those of his two comrades from that battle, Zvi Feldman and Yehuda Katz. Zachary's bones which were brought to Israel were positively identified. With them were also found his tank jump-suit and his tzitzit. Soon Zachary will be brought to his eternal resting place with a Jewish burial.
I remember Zachary's father Yonah. I remember well his pain when he spoke about his son, about his yearning, about his longing. He traveled the world in order to locate any piece of information about his missing son.
Many times Yonah told me with tears in his eyes that he had one prayer – to find Zachary before he himself passed away. To our sorrow, Yonah passed away about a decade ago and is not with us today at this wrenching moment.
A short time ago we informed Zachary's family, his mother, his brothers and his sister that we had brought him back home. They and the entire people of Israel will escort Zachary to his eternal resting place, his final rest in the soil of the land of Israel.
I would like to thank the entire intelligence community – the Mossad, ISA, IDF Intelligence and the IDF for their work in bringing Zachary Baumel back to Israel. This effort entailed wide-ranging diplomatic activity that will yet be told of."
President Reuven Rivlin commented on the return of the body of First Sergeant Zachary Baumel ז"ל.
The president said, "We have received the moving and painful news that the body of First Sergeant Zachary Baumel ז"ל has been brought home to Israel. 37 unbearable years of painful waiting, of questions and doubts have come to an end thanks to the determined and ceaseless work of the IDF and Israel's intelligence community."
"On this difficult, moving and sad day, our thoughts are with the Baumel family, crying and hurting with them as they bring their son Zachary to eternal rest in our country, our land," he added. "I thank the IDF and the whole Israeli intelligence community for their commitment, bravery and action, day and night, to bring our soldiers and those who fell defending the country and the people, home. We will not cease until all our soldiers have returned home – First Sergeant Yehuda Katz, First Sergeant Zvika Feldman and all those missing in action and whose place of burial is not known. Our commitment to our soldiers has always been, and will always be, a shining light. We go to battle together, and together we return from it," he added.
מעטות הפעמים שיש הודעות שכל כך מרגש לפרסם, אחת כזאת היא ההודעה עליה קיבלתי את הזכות לבשר היום – רב-סמל זכריה באומל ז״ל מנעדרי סולטן יעקב שב לביתו לאחר 37 שנים pic.twitter.com/mofxE11n2a

— רונן מנליס – Ronen Manelis (@IDFSpokesperson) April 3, 2019
(YWN Israel Desk – Jerusalem)