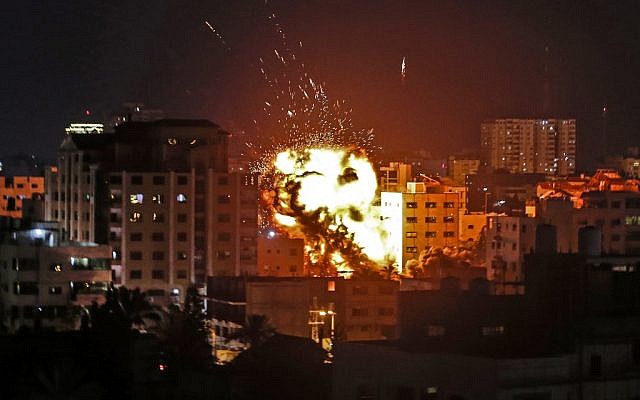 Palestinian terrorists on Shabbos fired over 250 rockets into Israel, drawing dozens of retaliatory airstrikes on targets across the Gaza Strip in a round of intense fighting. The rocket fire continued into Sunday morning, with the IDF reporting over 430 total.
An Israeli man was killed when a rocket slammed into his home in Ashkelon early Sunday morning, and at least 3 Israelis, including an elderly woman and man, were seriously wounded.
The fighting, the most intense between the sides in months, came as terror leaders from Hamas and Islamic Jihad, were in Cairo for talks with Egyptian mediators aimed at preventing a fraying cease-fire from collapsing altogether.
[TERROR DEATH TOLL RISES: 3 Additional Fatalities, Multiple Injuries as Rocket Fire Continues [VIDEO & PHOTOS]
In a familiar scene, air raid sirens wailed across southern Israel throughout the day and into the evening as barrages of rockets were repeatedly fired. Retaliatory airstrikes caused large explosions to thunder across Gaza, as plumes of smoke rose into the air. Outgoing Palestinian rockets left long trails of smoke behind them.
In Israel, medical officials said an 80-year-old woman was severely wounded by rocket fire, a 50-year-old man was moderately wounded by shrapnel and a teenage boy was mildly hurt as he ran for cover. Early Sunday, Israeli police said a rocket landed in a courtyard in Ashkelon, about 10 kilometers north of Gaza, causing damage to several buildings and killing one Israeli.
The IDF said it struck some 120 terrorist targets were struck in retaliation to the rockets. 4 terrorists were killed. In addition, the IDF reports the rocket that struck a home in Gaza, killing a pregnant Palestinian woman and her 14-month-old daughter, was fired by terrorists and not the IDF.
Targets struck included Hamas and Islamic Jihad military compounds, a Hamas rocket-manufacturing site and a "high-end Islamic Jihad tunnel" that it said stretched into Israel for use in attacks.
In response to 250+ rockets fired from #Gaza at Israel, we struck a Hamas HQ. In this building, Hamas used to order terror attacks and used to transfer money, supplies & logistics for the sake of killing Israelis.

Emphasis on the "used to". We destroyed it. pic.twitter.com/Bh2zhCGzCF

— Israel Defense Forces (@IDF) May 4, 2019
Late on Motzei Shabbos, Israel struck a building that it said housed Hamas military intelligence offices in Gaza City. Another airstrike hit a six-story commercial and residential building. Journalists said the building housed the office of Turkey's news agency Anadolu. There was no immediate comment from the Israeli military.
The Israeli military accused the Iranian-backed Islamic Jihad of instigating the latest round of violence by shooting and wounding two Israeli soldiers Friday. It said the shooting was not coordinated with Hamas, but said it holds Hamas, as the territory's ruling power, responsible for all fire emanating from Gaza.
State Department spokeswoman Morgan Ortagus said "the United States strongly condemns the ongoing barrage of rocket attacks by Hamas and Palestinian Islamic Jihad from Gaza upon innocent civilians and their communities across Israel."
"We stand with Israel and fully support its right to self defense against these abhorrent attacks," she said in a statement.
RECAP:
🔺10:10am – Barrage of rockets fired at Israel from Gaza.
🔺10:15am – IDF strikes 2 rocket launchers in Gaza.
🔺10:30am – Rockets fired at Israel.
🔺11:00am – IDF strikes Hamas targets.
🔺12:30am – More rockets fired at Israel.

— Israel Defense Forces (@IDF) May 4, 2019
🔺 8:30pm – After 200+ rockets were fired from Gaza at Israel, IDF struck 120 Hamas & PIJ terror targets in Gaza including:

• Underground Hamas rocket manufacturing site
• Weapons manufacturing sites inside a Hamas battalion HQ
• Hamas military intelligence & security offices

— Israel Defense Forces (@IDF) May 4, 2019
🔺430 rockets fired from Gaza at Israel. IDF has struck terror targets in Gaza, including:

• Rocket launchers
• Attack tunnel shafts
• PIJ & Hamas weapons manufacturing factories
• PIJ training compound & command center located INSIDE a mosque
• Hamas weapons depot

— Israel Defense Forces (@IDF) May 5, 2019
By nightfall, the IDF said terrorists had fired well over 200 rockets into Israel. It said dozens of the rockets were intercepted by its Iron Dome rocket-defense system. But it closed roads near the Gaza border to civilian traffic and closed a popular beach as a security precaution.
COGAT, the Israeli defense body responsible for Palestinian civilian affairs, said it was closing the fishing zone off Gaza's coast altogether and sealing Israel's two land crossings with Gaza. The crossings are used by Palestinian medical patients to enter and exit the territory, and provide the main entry for cargo into the blockaded territory.
Officials have announced that schools in many/most areas of southern Israel are to remain closed on Sunday due to the renewed warfare. Train service between Sderot and Ashkelon, which was halted before Shabbos, remains suspended due to the security situation because the train is exposed to rocket fire on portions of the route.
Tzefas City Hall announced motzei Shabbos it is working to make arrangements to accommodate southern Israeli residents seeking to relocate during the warfare. Prime Minister/Defense Minister Binyamin Netanyahu has been conferring with IDF Chief of Staff Lt.-General Aviv Kochavi and announced the Security Cabinet is set to convene on Sunday at 12:30PM in light of the situation.
The IDF Homefront Command has also imposed wartime restrictions, including a 300-person maximum for gatherings. This permits gatherings indoors only. Gathering outdoors is strictly prohibited. One may report to one's place of work providing there is a safe room or shelter.
Soroka Hospital Update
Soroka Hospital, located in Be'er Sheva, is a level 1 trauma center with a fortified emergency room and trauma unit as well as other units, serving as the main medical facility in southern Israel.
Following is a statement released by the hospital spokesperson Sharon Edri a short time ago:
"In light of the escalation in the south, the Soroka Medical Center was preparing for every possible scenario. The hospital was also prepared in accordance with the instructions of the Homefront Command. Signs to protected areas are located in spaces open to the public. The process of transferring non-protected departments to protected areas including internal, geriatric, and premature infants has begun. The preemie ward was transferred to a protected area in the previous round of rocket fire."
Among the targets hit by the Israel Air Force (IAF) are a site for the manufacture of rocket weapons by Hamas, which is located in the underground area of the former Yishuv Netzarim. The site is unique in its manufacturing capabilities and constitutes a central capability in the organization's ability to manufacture rocket weapons in Gaza.
Islamic Jihad and Hamas are committing a double war crime by intentionally targeting Israeli civilians, while hiding behind local civilian population in #Gaza. pic.twitter.com/0PSG6JxpqP

— Israel Foreign Ministry (@IsraelMFA) May 4, 2019
In addition, the IAF attacked the headquarters of the Hamas Bureij Brigade, including weapons production sites. In addition, a military compound was attacked at Tel Alawah, which serves as the organization's naval force for training and a number of military compounds in Jabalya, Ja'aya and another area in Tel al-Wawa.
We have just targeted Hamas' Military Intelligence and General Security Offices located in a building in Gaza.

Hamas used this building to hide terror infrastructure while abusing its location in the heart of a residential neighborhood. pic.twitter.com/EH5qrsHXtF

— Israel Defense Forces (@IDF) May 4, 2019
It is pointed out that there are some dates of significance that will be weighed in the decision-making process of the Security Cabinet when it convenes, including the start of Ramadan this week, Memorial Day (this Tuesday night and Wednesday), Independence Day (this Wednesday night and Thursday), and Eurovision, the chilul Shabbos international song spectacle being hosted by Israel from May 14-18.
What would you do if a rocket exploded in YOUR child's elementary school?

Thankfully no child was in this school when a rocket exploded in the courtyard.

This is just one of 250+ rockets that were fired from Gaza at Israeli civilians today. pic.twitter.com/UPzZoPBwWt

— Israel Defense Forces (@IDF) May 4, 2019
Blue & White party leader Benny Gantz comments
MK Benny Gantz, head of the Blue & White party and a former IDF Chief of Staff commended during an interview with Oshrat Kotler saying, "We must restore the deterrence that has been eroded catastrophically".
יו"ר כחול לבן, בני גנץ: "חייבים להחזיר את ההרתעה שנשחקה בצורה קטסטרופלית" • לראיון המלא מתוך "המגזין" עם אושרת קוטלר >> https://t.co/rW6xDMc3ev pic.twitter.com/fVsJO6aADy

— החדשות 13 (@newsisrael13) May 4, 2019
MDA reports
MDA Lahish Region Dispatch Center teams receiving emergency calls with red alert sirens in the background. pic.twitter.com/wYm7i7duN6

— Magen David Adom (@Mdais) May 4, 2019
In addition MDA treated 3 injured whilst running to shelter including: a 15 year old girl in Sderot, a 30 year old male in Ashkelon and a 40 year old female in Gan Yavne.

In the various regions MDA treated numerous victims suffering from stress including an 11 year old girl pic.twitter.com/nt4OwYJjKr

— Magen David Adom (@Mdais) May 4, 2019
United Hatzalah reports
United Hatzalah volunteers from Israel's south treated numerous people who were injured over the course of Shabbos as a result of rocket attacks and the ensuing color red sirens in Israel's south and southern coastal plain regions.
Some of those injured were in serious condition while others were moderately or lightly injured.
UH first responders have been responding all over southern #Israel over the weekend as injuries were reported from people running for shelter dye to incoming #Rocket attacks from #GazaStrip #Gaza. pic.twitter.com/VS1e5mBEii

— United Hatzalah (@UnitedHatzalah) May 4, 2019
Yanki Weinberg Head if the Kiryat Gat chapter of United Hatzalah treated one person seriously injured and another four people lightly injured in Kiryat Gat. After Shabbat was over he reported: "On Shabbos afternoon the color red sirens sounded just before a rocket landed in the city. I together with other volunteers from United Hatzalah treated one person who was seriously injured from shrapnel and was also hit by the shockwave of the rocket's impact. The rocket landed in the courtyard of a school and the woman was nearby when it happened. We also treated four other people who were lightly injured, some of who sustained the injuries while they were running for shelter. We also treated numerous people who were suffering from shock.
Yaakov Yisrael Bar-Yochai a United Hatzalah EMT from Sderot reported after Shabbos finished that he had treated five people for various injuries over the course of Shabbat. "Over the course of Shabbos I, together with other volunteers from United Hatzalah were dispatched to numerous incidents wherein I treated five people who were lightly injured due to a rocket that fell in a residential area of the city. On several occasions, we treated people who fell while running to get to protected areas."
Volunteers in other cities also provided treatment to those injured due to the rising hostilities in the area.
United Hatzalah Psychotrauma and Crisis Response Unit
Since Shabbos ended, United Hatzalah Psychotrauma and Crisis Response Unit volunteers as well as emergency medical volunteers have treated 40 people who have suffered light injuries or were victims of shock and Emotional or Psychological Stress in numerous cities in Israel's south.
Due to the continued rocket fire from Gaza and the resulting Red Alert sirens that have been bombarding Israelis all over Israel's south, dozens of Israelis have suffered emotional stress reactions including shock.
The unit has been active in Kiryat Gat, Ofakim, Ashdod, and other cities, towns, and moshavim since Shabbat ended.
Due to the sheer volume of attacks and the resulting volume of people who need assistance, the Unit has sent down additional unit members from other parts of the country in order to bolster the teams in the area. Additional Psychotrauma responders have been put on alert and will be dispatched should the need for their presence in the south continues to increase.
Additionally, the organization has set up a hotline for first responders who have suffered emotional stress due to responding to so many emergencies in such a short period of time.
Palestinian Islamic Jihad and Hamas continue to fire rockets at Israeli civilians as we enter the 8th hour of continuous air-raid sirens across southern Israel. pic.twitter.com/jfQP20R41j

— Israel Defense Forces (@IDF) May 4, 2019
(AP / YWN Israel Desk – Jerusalem / Photo Credit: MDA & Media Resource Group)