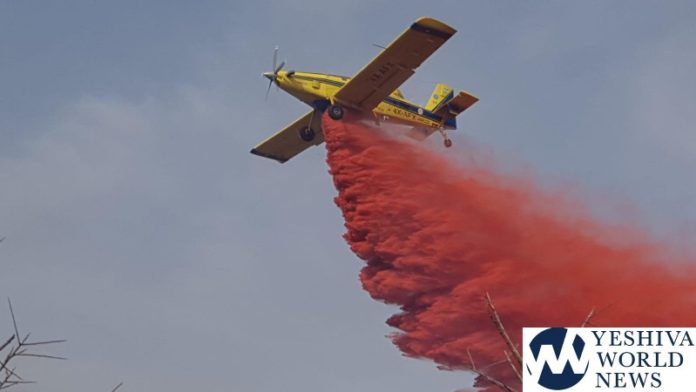 Israel Fire & Rescue Service reports on Sunday morning that during last week's heatwave, which was accompanied at times by strong wind contains, firefighters from the department and JNF battled dozens of blazes simultaneously, with the assistance of firefighting planes from a number of countries.
Fire Department officials report there was a total of 1,023 fires that involved 41 continuous hours of firefighting. YWN-Israel adds that in the latest tragic fire, on Shabbos, in Tzefas, a small child R"L was killed and some 20 others were left injured, some seriously. In addition, Moshav Modi'im was totally destroyed  in a major fire, with the exception of the community's shul.  Heavy fire damage was reported in other communities as well, including Harel.
Fire department officials add that 3,400 dunam (850 acres) of JNF forestry land was destroyed, along with 4,450 dunam (1,112 acres) of Israel Nature Authority land. 40 homes were totally destroyed in Mevo Modi'im along with 10 homes in Kibbutz Harel.
Nine firefighting planes from five countries; including Egypt, Cyprus, Greece, Croatia and Italy made 120 sorties in 80 flight hours, along with 12 Israeli firefighting planes. 1,312 firefighters participated in battling the blazes around the country. 492 fire trucks took part in the operation along with 307 department volunteers.
The abundance of rain this past winter led to a lot of vegetation and plant growth, which creates potential for spreading fires. The fire department is calling on the public to act responsibility and make certain there are fire buffer zones, and to prune exposed plants in places that may pose a fire hazard.
(YWN Israel Desk – Jerusalem)