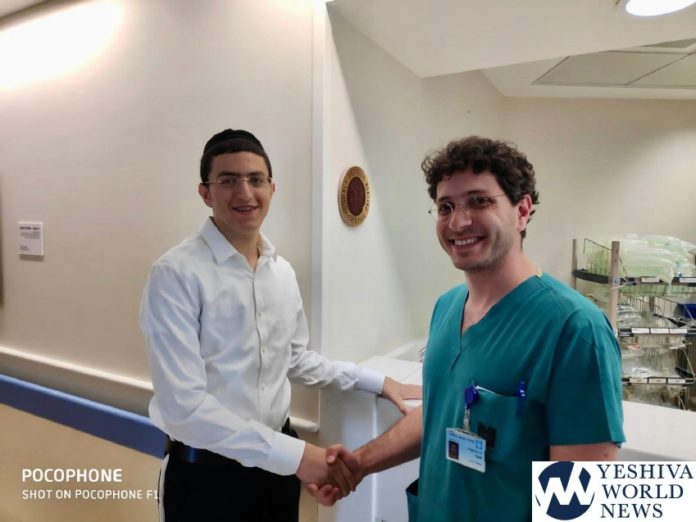 (VIDEO IN EXTENDED ARTICLE)
B'chasdei Hashem, officials at Jerusalem's Shaare Zedek Hospital in Jerusalem reported there is an additional improvement in the condition of terror victim Gavriel Lavi, who was seriously wounded by an Arab terrorist in a recent stabbing attack near Shar Shechem of Jerusalem's Old City.
It Is reported that he is breathing on his own on Wednesday morning, and he was moved out of the intensive care unit and into a regular unit.
Lavi was a seriously injured in a terror attack near Shar Shechem on Friday, May 31, 2019 as he was walking to the Kosel to daven.
The tzibur is asked to be mispallel for Gavriel ben Inas (אינס).
Meanwhile, in some good news, another stabbing victim, Yisrael Meir Nachemberg, 16, has B"H been discharged from Hadassah Hospital on Wednesday, June 5, 2019, as seen in the accompanying photo and video.  he was moderately injured in the attack.
In a statement from the hospital, Nachumberg's father thanks the doctors and nurses at Hadassah who treated his son.
"Our great thanks to the entire nation of Israel, for the prayers… for the reinforcement we received from all over the world," Rafael Nachumberg is quoted saying.
The 19-year-old Palestinian terrorist was thankfully shot and killed by police at the scene.
(YWN Israel Desk – Jerusalem)