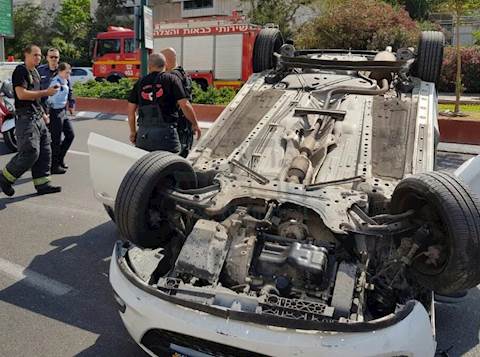 A young man named Yehuda who was moderately injured in a motor vehicle accident last year has been awarded more than half-a-million shekel as compensation. The young man, Yehuda (age 13) studies in the Talmud Torah in Netivot. He was traveling in a car that flipped over near Mitzpe Ramon and was rescued by the regional Search and Rescue Team before being transported to Soroka hospital. Yehuda was a patient in Soroka for eight days following the surgery that he required to repair his hand and shoulder.
Yehuda underwent rehabilitation and physiotherapy at the hospital as an out-patient. He slowly returned to his normal life and routine.
Shmuel, Yehuda's father, recounted the story. "It was a very scary accident. A car tried to pass me on in an area where there was a solid white line. He came back across the line so fast that I had no chance to stop. It was a miracle that we didn't die."
"Our family car flipped over numerous times and we feared for the worst. Thankfully we only suffered breaks and not any brain damage or God forbid something worse than that," Shmuel said.
Yehuda's parents approached the law office of Attorney Daniel Sarid who specializes in physical harm resulting from motor vehicle accidents. Following a claim against the insurance company, it was decided that Yehuda would receive 600,000 NIS in compensation for the injuries he suffered as a result of the accident.
"This is a very large settlement," Sarid told BeChadrei. "I fought very hard in order to make sure that Yehuda received what he deserved. This was not a simple injury and we had a difficult fight against the insurance company. In the end, we succeeded in seeing justice done," Sarid added.
(YWN Israel Desk – Jerusalem)