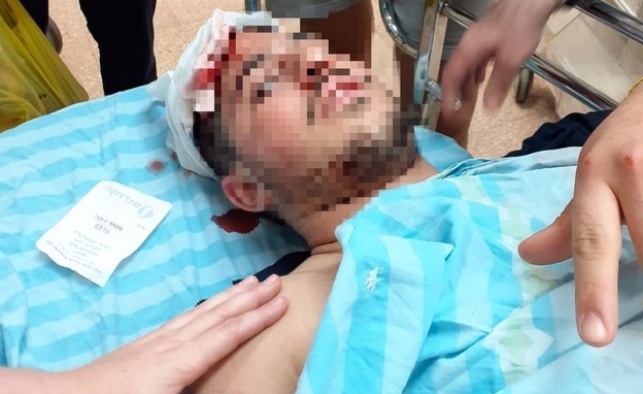 Two 17-year old yeshivah bochurim in Be'er Sheva were viciously attacked and savagely beaten without any provocation whatsoever by four Bedouin youths in a pizza shop last week, a Mako report said on Sunday.
Last week, the two boys innocently entered a pizza shop next to their yeshivah to eat supper, not knowing that their evening would turn into a nightmare that would rock the southern city.
"Suddenly, four Bedouins came in," one of the teenagers said. "Without any reason whatsoever, they began lynching us."
"One of them punched me in the chest and shoulder. I tried to run away but I saw that they grabbed my friend and were beating him on the head and face. He was bleeding profusely and it was very frightening. I was afraid that in another minute they'll kill him. The people passing by and employees in the nearby stores saw everything but were afraid to help us."
"When we saw what was going on, we crouched behind the tables so they wouldn't beat us also," an employee in a store next to the pizza shop said. "It was crazy. They could have easily killed the boys; they beat them up like they were Lego. People heard them screaming for help but were afraid to interfere. Only after a few minutes, when it was over, someone dared to call the police and MDA. The place looked like a pogrom had taken place."
Meanwhile, the Bedouins fled the area. The boys were evacuated to Soroka Hospital by a mobile intensive care unit, heavily bruised and bleeding profusely. One of them had to have a deep cut in his head stitched together. They were released two days later after undergoing extensive testing.
"I have no doubt that my son and his friend were beaten only because they're Jews," the father of one of the boys told Mako. "There was no other reason [for the attack]. It was based on nationalistic motives and they're lucky they're still alive. I hope that the police will arrest them and punish them with the fullest severity of the law."
"I'm afraid they're going to catch me in the street to finish the job," one of the boys said after he returned to his home. "I'm living in a nightmare and I can't sleep at night."
Israel Police on Monday announced that a 25-year-old male from Lakiya was arrested with a friend, suspected of beating two talmidei yeshiva in Be'er Sheva. The suspects were brought before an arraignment court and their detention was extended by four days to permit police to continue the investigation. Police are currently working to locate three additional suspects, with all five being members of t he Bedouin community.
According to a News12 report on Monday, one of the youths in custody reenacted the assault, showing police how he and the others beat the talmidei yeshiva who simply went out to buy something to eat.
(YWN Israel Desk – Jerusalem)