FTI Yeshiva of Cherry Hill, Raising $613K in 24Hr 3X Matching. Im Ein Kemach, Ein Torah. FTI Yeshiva Needs Your Help Today, The Only Yeshiva in South Jersey
24-hours, $613,000, all-or-nothing 3x matching Charidy campaign
Help us reach our goal TODAY!
CLICK HERE to donate on Charidy.com/FTI from 1 p.m. Tuesday – 1 p.m. Wednesday
On Tuesday June 4th at 1pm, for just one day, FTI will be raising $613K to support Torah learning for a whole year. Please consider partnering with the Yeshiva to ensure we can continue teaching Torah to our students each and every day of the year.
FTI – The Only Yeshiva in South Jersey.
Visit Charidy.com/FTI to make a difference in the life of a Jewish child.
Please help us spread the word!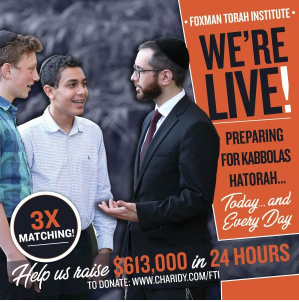 FORWARD this email and SHARE our campaign with your friends online.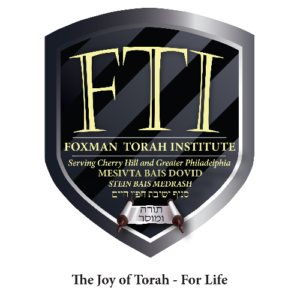 Rabbi Yisrael Davidowitz
Rosh Yeshiva and Head of School
Rabbi Chaim Juni
Rosh Yeshiva and Rosh Mesivta
Rabbi Shimon Max
Rosh Yeshiva and Rosh Bais Medrash
Rabbi Chananya Kramer
Menahel
Rabbi Y.M. Hoffman
General Studies Principal
Copyright © 2019 – Foxman Torah Institute
31 Maple Avenue | Cherry Hill, NJ 08002
Phone: 856.482.8230 | Fax: 856.482.8235
ftiyeshiva.org | [email protected]