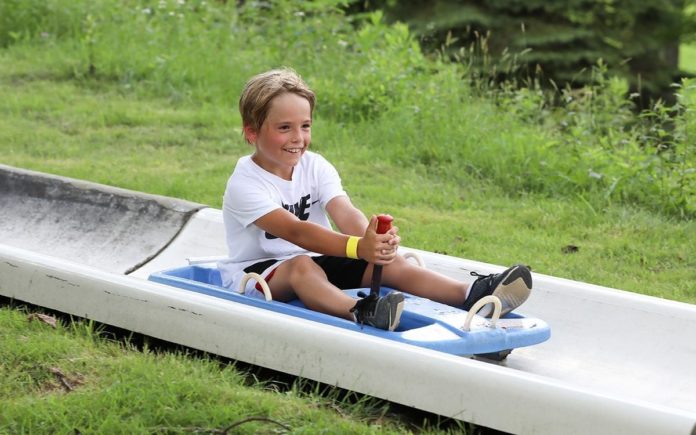 Back Because You Loved It!
Stoked by the rave reviews of hundreds of thrilled guests, we're gearing up for another idyllic summer vacation in Pennsylvania's Laurel Highlands. Yes, that's another summer of high adventure set against entrancing views—with all the conveniences and comforts a frum family could want!
So if you're one of the 106 families who were too late to get in last year, or you've never even heard of this incredible vacation option, listen up!For one month each summer, Seven Springs Mountain Resort, a popular adventure retreat in Pennsylvania, partners with Kosher Springs to make this incredible vacation amenable to your family. You may have heard of this retreat and wished you could vacation there, and from Aug 12 – Sep 8 2019 (11 Av – 8 Elul), with Kosher Springs management, you can!!
The resort features miles of scenic hiking and biking trails, sparkling lakes and endless opportunity for exhilarating adventure. With over 25 exciting activities on premises, and a shuttle to zip you around, pleasing both the daredevils and timid kids is actually EASY.
You can start your day at the alpine slide, head over to bungee jumping, scale the rock wall, jump onto hydro bikes or paddle boats, and play a few rounds of mini-golf, all before lunch! Or choose a more immersive experience, like horseback riding or segway tours as the highlight of your day. Those made of tougher stuff will savor the challenging downhill bike paths replete with swerves, banks and drops, world-class zipline tours and the superbly-designed shooting range.
After lunch, you'll have a whole new smorgasboard of activities. Ball courts. Arcades. Fly fishing. Summer tubing. Non-stop fun in a stunning setting!
And if you're in the mood to explore the nearby area, you'll find more scenic hiking and biking, awesome whitewater rafting, unique zoos, farms, amusement parks, architectural masterpieces, boating and even the Flight 93 Memorial.
Your accommodations are as tranquil as the activities are exciting. The mountaintop condos all feature full kitchens, central A/C and spacious living areas with multiple layout options. With the option of catered Shabbos and daily meals as well as kosher groceries delivered, you really can travel light.
Kosher Springs is proud to offer this amazing resort vacation at family-friendly pricing. Condos are reasonably priced and you can come for just a few days. Best of all, adventures are deeply discounted, and the resort is offering their daily Adventure Pass at a super-low rate exclusively for Kosher Springs guests.
So, what makes a perfect vacation for your family?
Cool mountain air? Check. Stunning view? Check. Optional kosher catering? Check. Kosher groceries? Check. Spacious, immaculate accommodations? Check. Minyan and separate swimming? Check. Easy on the wallet? Check. High adventure? Check Plus!
Rest assured, everyone in your family will be ecstatic, from your typical 'but-it's-for-babies' teen to your cost-conscious spouse. Just show them this and watch their faces.
To reserve, get more info or see feedback from our guests visit koshersprings.com.
Email: [email protected] or call 732.993.5577.
Looking forward to hosting you!