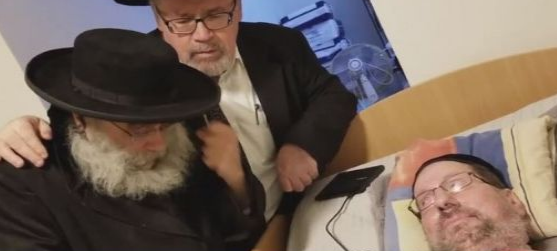 Dear Friends,
This is the time of the year when we look back and forward, with hopes and dreams for the New Year. It is also a time to express our gratitude to our supporters, who have been our "lifeboat" since my husband was stricken with ALS nine years ago. You may not realize, but you have a tremendous merit, not only in keeping R' David alive, but also in enabling my family and myself to function!
As most of you already know, this debilitating disease has left him completely paralyzed and dependent on life support. The cost of around-the-clock caregivers, equipment, medicine and a myriad of other expenses as well as the general upkeep of the household are unending.
Your generous donation for the New Year will enable us to continue meeting expenses and keep R' David alive!! This year's goal is $100,000.
Please share this campaign with your friends to help us reach our goal.
FOR A TAX-DEDUCTIBLE RECEIPT USE THIS LINK: http://bit.ly/KupatHair
Wishing you and yours a healthy, happy and sweet New Year full of blessings,Rochel Frid in the name of R' Dovid and the family
Verified by: HaMekubal HaRav Gamliel Rabinowitz Shlita, Jerusalem, HaRav Aryeh Shulman Shlita, Mara D'Asra Telz Stone, HaRav Michoel Sorotzkin Shlita, Rosh Kollel HaDeah V'Hadibur, Telz Stone, HaRav Yisroel Neuman Shlita, Rosh Yeshivas Bais Medrash Govoha, Lakewood, HaRav Yaakov Hopfer Shlita, Kehillat Shearith Israel, Baltimore, HaRav Yaacov Haber Shlita, Kehillas Shivtei Yeshurun, RBS. View recommendations: click here:
For a tax-deductible receipt, please press the following link for Kupat Hair – קופת העיר.
Payment by check to Kupat Hair. In order for the donation to be deposited in our fund, please write a note on the check that the contribution is for fund #2605 – Rabbi David Frid. Mail your check to American Friends of Kupat Hair, 4415 14th Avenue, Brooklyn NY 11219.
Payment by phone: Call 1866-221-9352 twenty four hours a day. Please specify that the donation is for fund # 2605, Rabbi David Frid.
Please take time to pray for Dovid Yehoshua ben Leba Malka and all ALS patients or do a good deed to increase their merits.
We are truly grateful for your support.