The Peleg Yerushalmi branch of chareidi litvish Jewry on Thursday resumed protests, for a first time since the petira of HaGaon HaRav Shmuel Auerbach ZT"L.
It is reported the protests have been ordered following the arrest of talmid Meir Brodiansky, who happens to be a grandson of Rav Yitzchak Yerucham Brodiansky, mashgiach of Yeshivas Kol Torah which Meir attends, as reported by YWN-ISRAEL.
The phone messages have gone out and the word is that the protesters will be blocking areas of Yerushalayim, near the Cord's Bridge and the Jerusalem light rail.
It is also being reported that HaGaon Rav Azriel Auerbach expressed surprise and disapproval when hearing about the planned protests and disruption of traffic, as he feels this is not good for the bochrim and "not our way, to have them confront police".
BiChadrei Chareidim on Thursday afternoon, 21 Adar, published the letter signed by Rav Azriel Auerbach, clarifying his position is that of following the psak of his later brother Rav Shmuel ZT"L.
The letter states that he follows the psak of his late older brother, and as such, bochrim should get out into the streets and protest the arrests of talmidim and avreichim. Rav Azriel however, does stipulate, those taking part in protests should refrain from "forbidden actions", not detailing exactly what falls under this category. However, in the letter dated 21 Adar, Rav Azriel clearly states the psak being followed was issued by Rav Shmuel.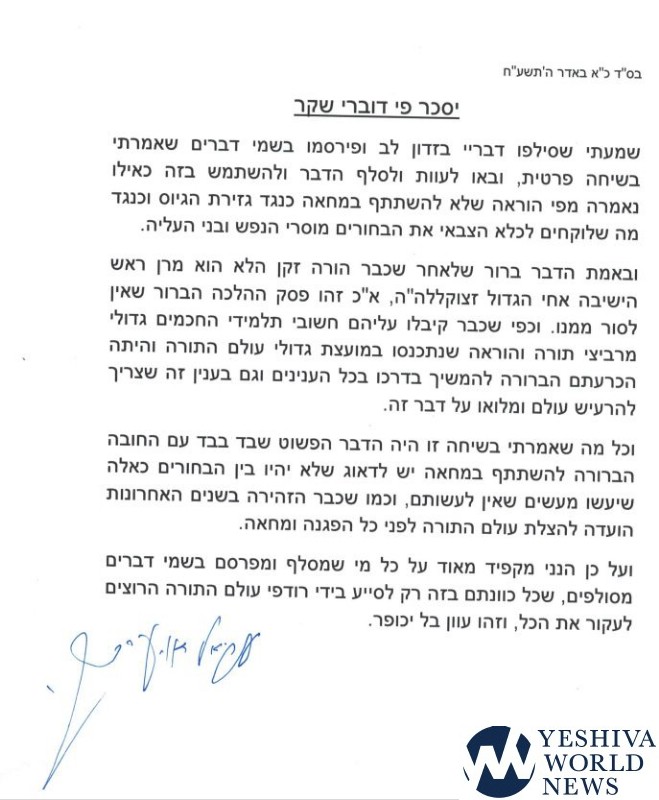 (YWN Israel Desk – Jerusalem)