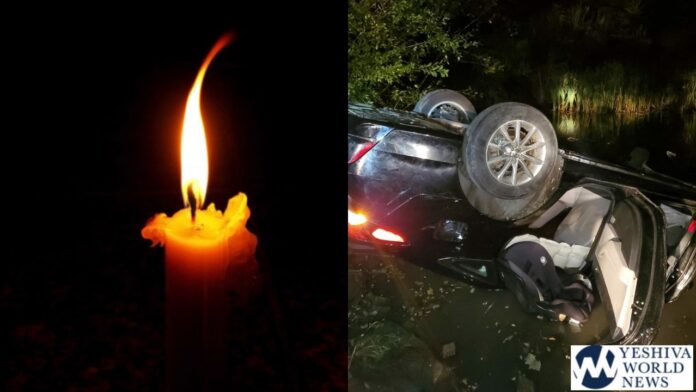 Tragedy struck the Kiryas Joel community Sunday night, as word spread of the tragic death of a Yungerman from the community.
It happened at around 7:45PM, when a vehicle driving on Karlsburg Rd and Seven Springs Mountain Rd lost control. The vehicle drove off an embankment, and overturned into a small lake.
Rescue personnel from Kiryas Joel Hatzolah and KJFD rushed to the scene and extricated the victim from the water. He was found in traumatic arrest and rushed to the hospital where he was R"L Niftar.
He has been identified as Yaakov Farkash Z"H, 26-years-old.
The NY State Police tells YWN the following details from the preliminary investigation:
A 2018 Hyundai Sonata, operated by Jacob Farkas, age 26 of Kiryas Joel, was traveling east on Karlsberg Road when the vehicle veered across the roadway and down an embankment along the north side. The vehicle overturned and came to rest onto its roof partially submerged underwater. Kiryas Joel Fire and EMS responded and extricated Mr. Farkas from the vehicle. He was unresponsive and transported to Orange Regional Medical Center where he was pronounced deceased. Monroe Fire Department SCUBA responded and conducted a further search of the area for any other possible victims with negative results. There was no indication that there were any other occupants in the vehicle.
Boruch Dayan Ha'Emmes…
*****SIGN UP NOW —- GET YOUR NEWS IN RECORD TIME***** Make sure you are one of the more than 22,000 that signed up to YWN WhatsApp Status to receive news in live time. Click this link – or send a message to 1-888-4-YW-NEWS (888-499-6397) – to see our status posts*****
(YWN World Headquarters – NYC)