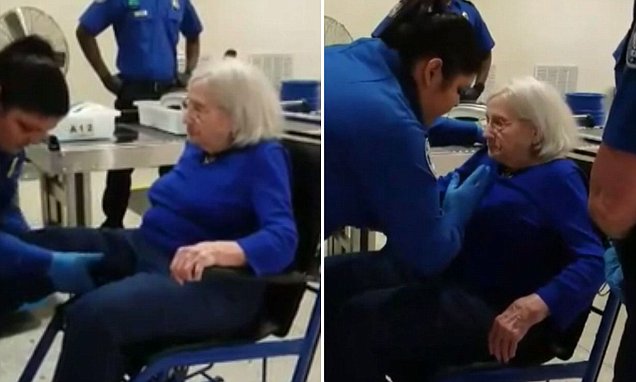 A now-viral video of Transportation Security Administration (TSA) officials patting down a 96-year-old woman in a wheelchair at Washington Dulles International Airport has outraged viewers.
Jeanne LaBrier Clarkson shared the six-minute clip of her nonagenarian mother, Evelyn LaBrier, being screened in her wheelchair by two female TSA security agents at the Virginia airport. Clarkson, LaBrier and Clarkson's fiancee were enroute to Anderson, Indiana.
"The 3 of us were all in wheelchairs. Only my 96 year old mother was subjected to this prolonged, repetitive search," Clarkson captioned the clip, which has since been viewed more than 9 million times and has sparked heated debate.
In the footage, the two TSA staffers politely explain the search to LaBrier as they screen her, asking her to remove her windbreaker before giving her a full pat down from her hair to her sneakers, asking her to redistribute her weight at one point so that an officer can inspect underneath her.
"I have traveled extensively and never seen anything like this. Mother had traveled with me before and never been groped like that!" Clarkson said.
LaBrier successfully passed the screening.
Critics on social media have described the TSA's search of LaBrier as "totally disgusting," "horrible", "unbelievable" and "uncalled for," while supporters of the search say that the agents were simply following policy.
"No offense to anyone but people use the elderly to smuggle stuff and just because you say your in a wheelchair doesn't make you not able to smuggle stuff that is illegal," one detractor wrote.
Soon after, the airport took to Facebook to clarify that it was the TSA's decision alone to screen the 96-year-old ahead of her flight.
"Many of you have reached out to us to express concern over a video of a security screening taking place at Dulles International Airport. Security screening at our checkpoints is directed and conducted by the TSA," they posted. "We have shared customer comments with the TSA for their immediate review and appropriate action."
The TSA released the following statement on the story:
"TSA is committed to ensuring the security of travelers, while treating all passengers with dignity and respect. In this instance, the TSA officer provided advisements during the pat-down and was extremely polite. The passenger was very cooperative and gave no indication that she was agitated or in discomfort. She received a pat-down and was cleared for her flight," a representative said.
The TSA's website features the following information on general security screenings:
"Pat-down procedures are used to determine whether prohibited items or other threats to transportation security are concealed on the person. You may be required to undergo a pat-down procedure if the screening technology alarms, as part of unpredictable security measures, for enhanced screening, or as an alternative to other types of screening, such as advanced imaging technology screening" the TSA's web page on security screenings states. "Even passengers who normally receive expedited screening may at times receive a pat-down."