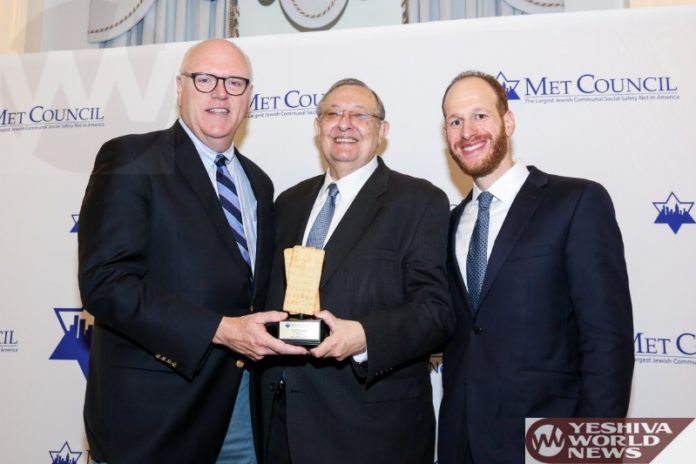 (PHOTOS IN EXTENDED ARTICLE)
Over sixty of New York's most important government officials came out on Sunday, June 3rd to salute the work of the Met Council on Jewish Poverty for their service to 225,000 New Yorkers in need. For the first time, the annual Met Council breakfast was sold out and there was a standing room only crowd at The Yale Club. Nearly 400 elected officials, policymakers, Jewish community advocates, and leaders of affiliated Jewish Community Council's gathered to show their support for the Met Council – America's largest Jewish communal social service organization and its CEO David G. Greenfield.
The Master of Ceremonies for this year's event was Errol Louis – award-winning anchor of "Inside City Hall" on NY1 and CNN commentator. This year's breakfast was dedicated to the memory of Assemblyman Michael Simanowitz z"l who was a steadfast supporter of Met Council and fought both hatred and poverty – the theme of this year's Met Council breakfast.
"Met Council's Legislative Breakfast was a wonderful celebration of our important partnership with government officials," said David G. Greenfield, Met Council's CEO. "This year's honorees embody the most important qualities of government officials: they are dedicated defenders of New York's most vulnerable, and creative problem solvers in addressing our city's most pressing challenges. We honor them for fighting every day against poverty and hatred. We are grateful to work with them year-round as the premier Jewish organization dedicated to helping the needy in our New York communities."
"This organization is vital to New York and to America" said Senator Charles Schumer, who is a long-time supporter of Met Council's work. Senator Schumer was joined by a half-dozen members of Congress including Chair of the House Democratic Caucus Joe Crowley who presented askan Shimmy Pelman of Tomchei Shabbos of Queens with the Met Council's charitable partner award. Tomchei Shabbos was honored for being the largest of the 120 groups that Met Council supplies with food for Pesach to do home deliveries. Over 500 people volunteered to deliver food to directly to homes of the needy in Queens before Pesach. Also in attendance at the bi-partisan breakfast was Repulican Congress Member Dan Donovan and Senator Marty Golden – both strong advocates on behalf of the Jewish needy and partners in the work that Met Council does.
Israel's Consul General Ambassador Dany Dayan gave greetings and praised not only the work of Met Council but the leadership of Met Council CEO David G. Greenfield. "David Greenfield was one of the first people I met with in the United States because he is renowned for his leadership and his strong support of Israel," the ambassador said.
Another moving moment was when New York State Assembly Speaker Carl Heastie presented the family of the late Assemblyman Michael Simanowitz z"l with the Met Council recognition for his lifetime of commitment to fighting for the Jewish poor. Michael's son, Yonatan, spoke at the breakfast of how meaningful it was to him and his family.
"The Annual Met Council Legislative Breakfast was bigger and better than ever," said New York City Council Member, Mark D. Levine. "It was wonderful seeing elected leaders and many others coming together in support of the largest Jewish communal social safety net in America!"
Other distinguished honorees included: NYPD Commissioner James P. O'Neill, The Honorable Laurie Cumbo (NY City Council), The Honorable Todd Kaminsky (NY State Senate), The Honorable Steven Cymbrowitz (NY State Assembly), The Honorable Barry Grodenchik (NY City Council), The Honorable Stephen Levin (NY City Council), The Honorable Donovan Richards (NY City Council), The Honorable Ritchie J. Torres (NY City Council), and long-serving senior Met Council staffer Jackie Ebron.
"It was a great morning to be at the Met Council Legislative Breakfast honoring the work of Commissioner O'Neill and many others," recalled Congresswoman Carolyn B. Maloney. "Thank you, Met Council, for your tireless work to help vulnerable populations of New York City, including the more than 565,000 poor and near-poor living in Jewish households in NYC."
"I am honored to receive the 'Champion of Affordable Housing Award' from Met Council," said New York City Councilman, Donovan Richards. "Proud of the work they do every day to address poverty in our communities."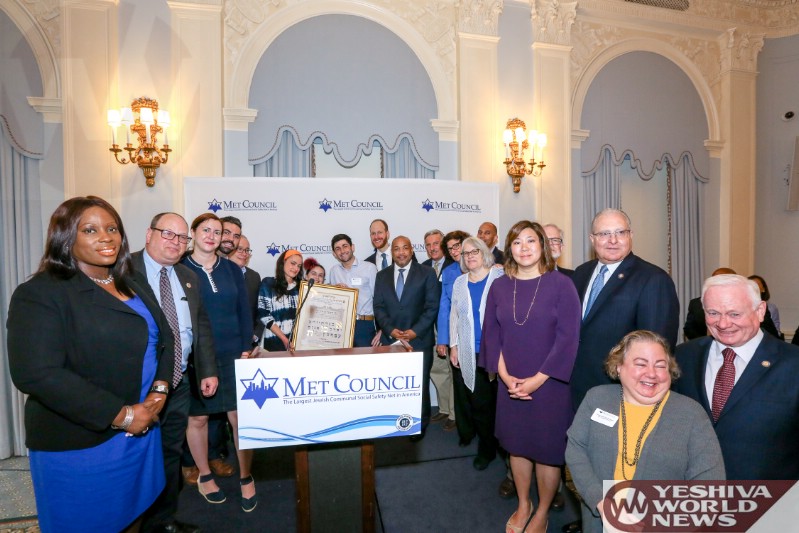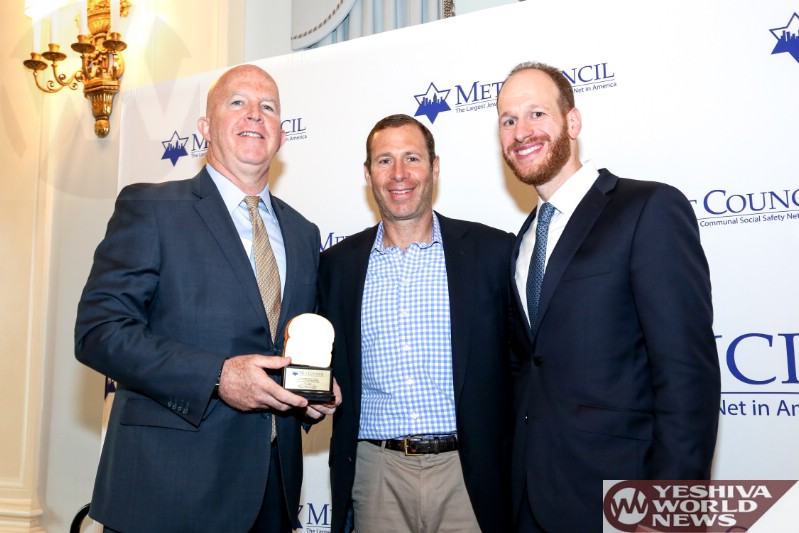 (YWN World Headquarters – NYC)