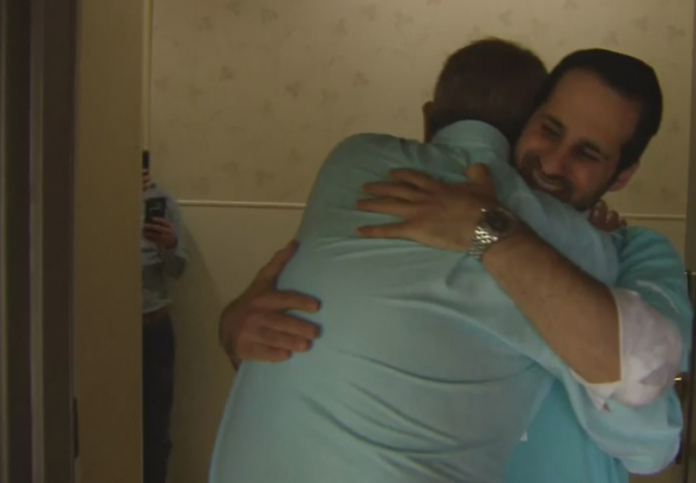 The Following is via CBS News:
It's the life-saving gift that both recipient and donor get to celebrate thanks in part to the Gift of Life Marrow Registry. Thousands of lives have been saved– and now Howard Shlensky's is another.
"When I got that phone call, I was already sitting down on the couch," recalls Schlensky. "They told me I had possibly two perfect matches. You talk about a grown man crying… what a moment."
And those moments just keep coming. From facing terminal cancer to getting a second chance, all because a stranger joined the bone marrow registry, and donated when he learned he was a perfect match.
Wednesday the two men met for the first time.
"More excited than nervous," explains Schlensky as he reaches to knock on the door, "great, great opportunity for me today."
The next few moments are lost in a blur of hugs and emotion.
So what do you say to the stranger, who donated the stem cells, that saved your life?
"Akiva, oh my God. Thank you," breaths an emotional Schlensky. "Thank you, thank you. So good to meet you. Really. Thank you."
Four years ago, Akiva Rodin joined the Gift of Life Marrow Registry at the urging of his older brother. A family friend was battling cancer and everyone was encouraged to submit a swab.
"I didn't even know so much what it was," explains an unassuming Akiva, 25. "OK, they told me to swab my check. OK! No problem!"
Meanwhile, pharmacist Howard Schlensky had a loving family, a great life– when chronic lymphocytic leukemia threatened to take it all from him.
"They gave me about 6 months to live," says Schlensky, after being warned that the frequent blood transfusions could not continue indefinitely.
And yet, he says, he never gave up hope."
What the father of three couldn't know, was that a hero was already waiting in the wings. Ironically, the family friend whose diagnosis led him to join the registry later found a match, and Akiva became one.
"You can't really put it into words," says Akiva. "It's really incredible. So thankful to God that he gave me an opportunity."
Meanwhile, in mere moments, the one-time strangers are a laughing, embracing extended family.
"Welcome! Welcome to our home!" shouts Aryeh Rodin, Akiva's father. "All of these events are coming together in such a spectacular fashion. It's very inspiring."
Now, Gift of Life staffers say they hope news of the local miracle will encourage others to get involved.
"This is the culmination of everything that we do," says Russell Lowe, a community engagement coordinator with Gift of Life. "Everything that we preach and that we want people to do, this is what it can lead to."
Lowe says it's a simple process to head to their website and request a kit to submit a swab. It's painless– and is desperately needed, especially in minority communities.
"Every three minutes someone is diagnosed with some form of blood cancer and those people need transplants," says Lowe. "There is an extreme need for diversity. Some 55 percent of Hispanics can't find a match, 75 percent of African Americans can't find a match. To combat that, we just need more people from diverse backgrounds to get registered."
Howard Shlensky is living proof that the registry works, and it definitely matters.
"Someday they're going to know somebody that's going to need it," says Shlensky. "If it's not themselves and now is a great opportunity to step up and get swabbed."
Then, with a deep sigh that screamed gratitude, "Today's just been a great day." And with his voice breaking, "Thank you."
(Source: CBS News)