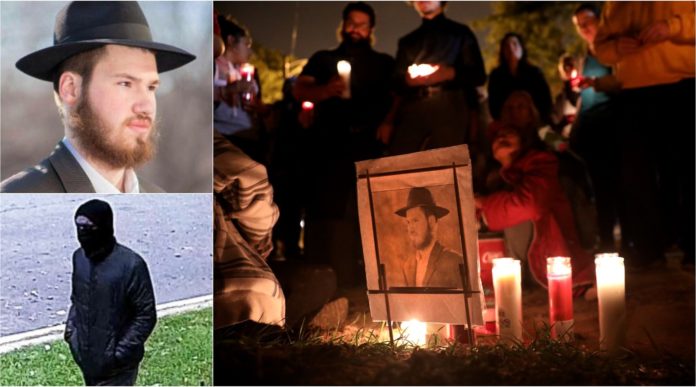 The Jewish community in Chicago is in shock and mourning after the unexplained murder of Eliyahu Moscowitz, a 24-year-old Orthodox Jewish man shot and killed in Chicago's Rogers Park neighborhood on Monday night, Simchas Torah.
Many are fearful, as the killer, apparently a masked gunman who is also suspected of killing an elderly man the previous day, remains on the loose.
Rabbi David Kotlarsky, who heads the nearby Chabad community of East Lakeview, was good friends with Moscowitz and studied with him at yeshiva.
He said that the pain of his death was "unimaginable".
Kotlarsky said the police believe at present that the murder was not a hate crime, but that community members are nevertheless fearful for their safety, especially given the fact that the suspect is believed to have committed another random murder less than 48 hours earlier.
"We're in total shock, it's unreal that it could happen here," Kotlarsky told The Jerusalem Post.
"The community is feeling hurt and we're all in mourning. For it to happen on Simchas Torah, to such a special soul – that Hashem took him on such a day – was very challenging," he said.
"We went from extreme happiness to mourning: it's unbearable."
After shooting the victim, the offender fled westbound on Sherwin Ave and then southbound in the west alley. The offender is described by witnesses as a male black, thin build, wearing dark clothing.

Detectives ☎️: (312) 744-8200
Anonymous tips 💻: https://t.co/1xUCRz71hV pic.twitter.com/8olRpa2VSd

— Chicago Police (@Chicago_Police) October 2, 2018
Rabbi Zelig Moscowitz remembered his first cousin.
"He was a wonderful, very kind, gentle, caring person," Zelig Moscowitz said. "He was someone who uplifts others."
After attending high school in Chicago, Moscowitz spent a year studying at the Mayanot Institute for Jewish Studies in Jerusalem before returning home to work as a Mashgiach Kashrus at the Jewel supermarket in Evanston.
After his murder, a local Facebook page contained tributes from some of the many customers that Moscowitz helped over the years. "Always a kind word and smile," "Nicest person" and "Such a nice guy" were typical descriptions.
A candlelight vigil was held by friends of Moscowitz on Tuesday night.
Among the more than 100 mourners gathered at Loyola Beach were members of an online community of Pokémon GO players. Dozens of Moscowitz's friends described him as a prolific Pokémon player and a global traveler, who had friends across the world.
They recalled his sarcastic and corny sense of humor which didn't hinder his considerate and generous nature.
Moscowitz "looked like a sort of typical Orthodox Jewish guy that you would think you would have nothing in common with," said Pokemon GO enthusiast Adam Thornburg. "That couldn't be further from the truth."
A FUND HAS BEEN SET UP BY RABBONIM TO HELP THE MOSCOWITZ DURING THIS DEVASTATING TIME – CLICK HERE