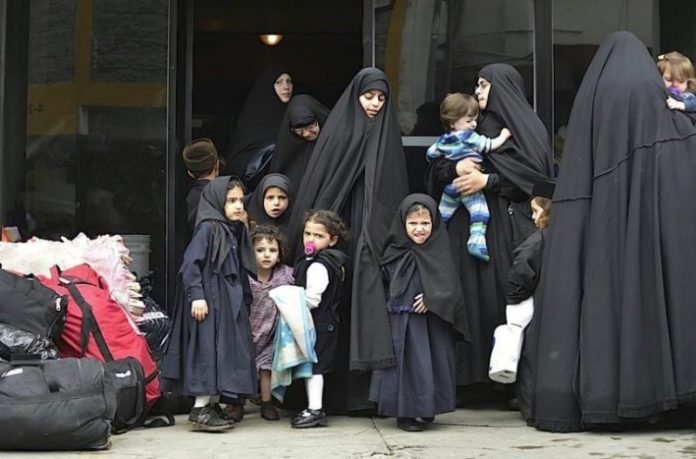 (By Rabbi Yair Hoffman for 5tjt.com)
Guns and knives. Forced child marriages. A thirteen-year-old girl who is eight months pregnant. Child brainwashing. A failed Guatemalan rescue effort. A successful rescue. A kidnapping in New York.
These particulars about the Lev Tahor cult have been in the news recently.
Last year, its founder and leader, Shlomo Helbrans, died in Mexico. The leadership transferred over to his brother Nachman Helbrans, along with three others: Mayer Rosner and Yankel and Yoel Weingarten.
Disturbing Reports
There was a report of a 14-year-old boy who was punished severely for giggling during a 4-hour Shacharis session led by Yoel Weingarten. After a severe beating, they threw him in an old, broken commercial freezer. The imprisonment in the confined space with no change of clothing or bathroom lasted for three months. Weingarten reportedly told some of the other young men that he was a sinner and if he dies then that's what he deserves.
[LEV TAHOR HORROR: Tales of Beatings and Torture Emerge From Excommunicated Cult Members]
Recently, a mother, formerly an intimate member of Lev Tahor, succeeded in rescuing her children and bringing them to New York. At first this was good news. One of the children, however, was kidnapped by cult members and their supporters in the United States.
Navigating Lashon Ha'ra
These details bring up a very serious quandary of one of the most difficult areas to navigate within Judaism—the laws of lashon ha'ra.
On the one hand, lashon ha'ra can cause devastating consequences to the individual or group that it concerns. On the other hand, if one is overly cautious in lashon ha'ra, it can cause untold human tragedy.
Gedaliah ben Achikam was a navi and one of the gedolei ha'dor of his generation. Indeed, the Gemara (Rosh Hashanah 18b) says that Hashem Himself (Zechariah 8:19) equates the death of this great tzaddik with the destruction of the Beis HaMikdash! Rarely do we find such testimony as to the stature of any individual.
Yet, notwithstanding his greatness and piety and the fact that he was a prophet of Hashem, he made a crucial error in halachah and in its application. He refused to take protective measures against Yishmael, when he was warned by Yochanan ben Korayach of Yishmael ben Nesanya's malevolent intent (Yirmiyahu 40:16). The consequences were grave; Gedaliah and all his men were brutally murdered (Yirmiyahu 41:2).
The Gemara tells us (Niddah 61a) that Gedaliah ben Achikam misused the halachicconcept of lashon ha'ra and applied it erroneously. It was a tragic error that resulted not only in his death, but in the scattering of the nation and in the loss of Klal Yisrael's independence as a nation. Indeed, the repercussions of his error are still felt to this day.
The same can be said about the Lev Tahor cult. Hundreds of families in Israel and elsewhere are gravely concerned about their children and grandchildren in this cult. Former members of the Lev Tahor cult are concerned as well.
This author has spoken to two former cult members and a son of Lev Tahor's former leader to verify the accounts of the abusive behavior. They were verified to this author.
When safety of children is a concern, we cannot ignore evidence indicating dangers, even if the sources of these indications come from venues that do not necessarily fit the criteria for Torah testimony. Halachah recognizes the notion of raglayim l'davarwhenever such issues arise.
In a halachic psak printed in Yeshurun, volume 15, page 642, Rav Elyashiv, zt'l, rules that efforts should be made to take children away, based even upon raglayim l'davar. He takes into account the issue of overcautiously removing children from their home environs if it could lead to removal of children from an observant Jewish home environment.
These reports are being made by former members of the cult who have managed to escape. They are further corroborated by past members.
A Death
The young boys who had escaped from the cult within the past month reported a case of a man under 40 years old who had contracted a minor infection. The cult leaders refused to pay for treatment. He died and had to leave in a body bag. This young father left numerous children behind.
The situation is one of true pikuach nefesh.
The wife of Lev Tahor's rosh yeshiva expressed concern that some of the philosophies are so extreme that the cult leaders may take action similar to that of Reverend Jim Jones's cult in the People's Temple, Rachmana litzlan.
Dangers Of Cult Denial
Unfortunately, there are people who are in a state of denial about the dire situation of those who are involved in the Lev Tahor cult. They claim that all of these reports are lashon ha'ra that denigrate a holy group of people and that the reports do not accomplish any purpose.
This is incorrect.
Firstly, those who are working to deprogram the effects of the cult on former members need our financial and emotional support. Frum families have taken in these innocent children and are struggling financially to meet their needs. In order to develop emotionally, they need privacy as well, which hampers their fundraising abilities.
Secondly, greater resources must be devoted to rescue operations. This can only be done in an environment that recognizes the need. To get the authorities in Guatemala on board to initiate a rescue operation required a demonstration of massive evidence of what was going on.
Some would argue that speaking out against the abusive behavior of the Lev Tahor is a chillul Hashem since the cult leaders look like holy Chassidic Jews. It is unfathomable that this type of thinking is even being entertained, yet unfortunately it is.
The author can be reached at [email protected].