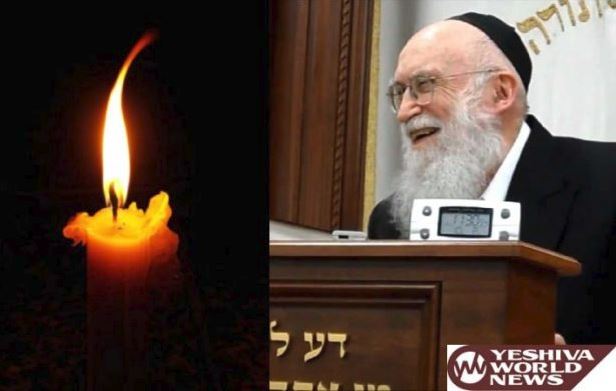 YWN regrets to inform you of the Petira of Hagaon HaRav Avrohom Chaim Levin ZATZAL, the Rosh HaYeshiva of Telshe in Chicago. He was 90.
Rav Levin served for decades as a member of the Moetzes Gedolei Hatorah of Agudath Yisroel of America and the Chairman of Torah Umesorah Vaad Roshei Yeshivos.
He founded the branch of Telshe Yeshiva in Chicago nearly 60 years ago along with HaRav Chaim Schmeltzer ZATZAL at the behest of the Telsher Rosh Yeshiva of Cleveland, HaRav Chaim Mordechai Katz ZATZAL. HaRav Chaim Dov Keller (Rav Levin's brother-in-law) joined the Yeshiva around one year later. Telshe Yeshiva has become one of the elite Mekomos Hatorah in the United States, producing thousands upon thousands of legendary Bnei Torah, many whom are Roshei Yeshiva and Rabbonim around the world.
Rav Levin was a Talmid Muvhak of Hagaon HaRav Eli Meir Bloch ZATZAL, the famed Telzer Rosh Yeshiva. He was the son-in-law of Hagaon Harav Mordechai Ginzburg, one of the Mirrer Yeshiva in Brooklyn.
The Levaya will be held at 4:00PM at the Telshe Yeshiva in Chicago, and at 9:15AM Thursday in Lakewood at BMG. The Kevura will be in Eretz Yisroel – arriving on United Flight 84 from Newark Airport. 
Audio Hookup Information for Levaya at 4:00PM Central Wednesday Call (563) 999-1235 No PIN necessary.
[FULL VIDEO & PHOTOS: Lakewood Levaya of HaRav Avrohom Chaim Levin ZATZAL; HaRav Malkiel Kotler Escorts Novominsker Rebbe Into Levaya]
Boruch Dayan HaEmmes…