A Southwest plane slid off the runway at Hollywood Burbank Airport on Thursday but came to a stop and no one was injured, according to the Federal Aviation Administration.
The flight rolled off the end of the runway in Los Angeles County while landing at about 9 a.m. PT (12 p.m. ET), but was halted by the Engineered Material Arresting System, which is designed to stop aircraft in the event one leaves the runway, according to the FAA.
There were 117 people aboard the plane and no reports of injuries, the FAA said. There were also no fuel leaks. Rain was falling when the plane landed, but it's unclear if weather played any part in the incident.
The groundstop was lifted just before 11 a.m.
Flights were continuing to depart from Burbank.
Southwest Airlines says it is canceling all its flights at the airport until at least 1:55 p.m.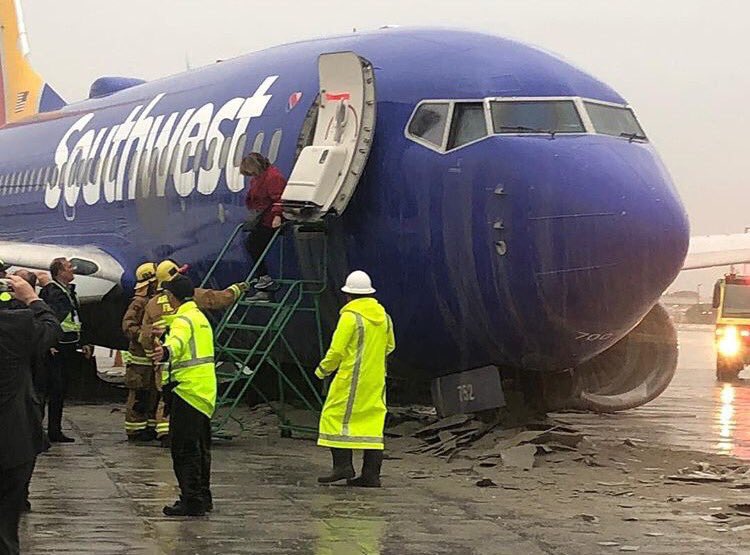 WATCH: Southwest Airlines jet skids off the runway in Burbank during a heavy rainstorm. 112 passengers and 5 crew members on board, no injuries. pic.twitter.com/RIA9rR8IF0

— WPEC CBS12 News (@CBS12) December 6, 2018
From outside the aircraft #burbank @SouthwestAir pic.twitter.com/9jg8fVYr07

— Moe Storch (@MoeStorch) December 6, 2018
JUST IN: Southwest Airlines flight skids off runway at Burbank Airport; no injuries reported

— Breaking911 (@breaking9111) December 6, 2018
#FAA Statement: Shortly after 9:05 a.m PT today, @SouthwestAir Flight 278 rolled off the end of Runway 8 while landing at @fly_BUR Airport in #Burbank, CA, and came to rest in the Engineered Material Arresting System (EMAS). This information is preliminary and may change.

— The FAA (@FAANews) December 6, 2018
Southwest Airlines cancels all flights at Burbank airport until at least 3pm. Passengers told to go to LAX or book flights for tomorrow. pic.twitter.com/rAHsKUXu8W

— Gina Silva (@ginasilvafox11) December 6, 2018
(AP)