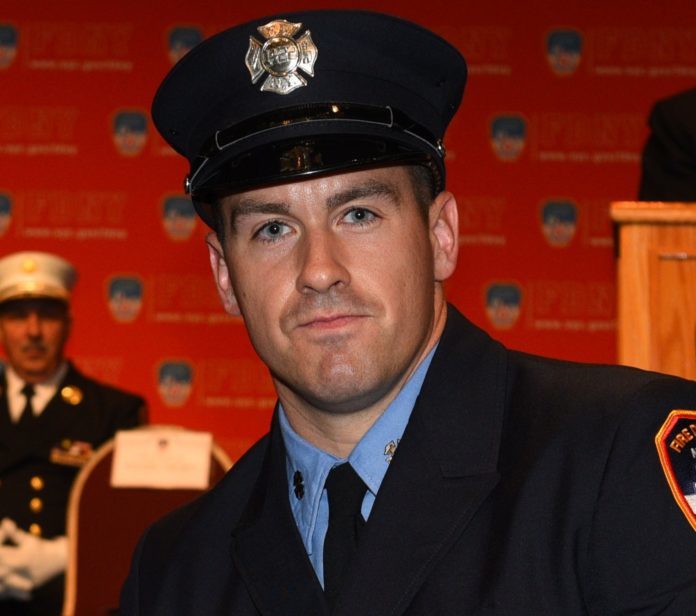 The funeral for FDNY firefighter Steven H. Pollard is taking place in Marine Park on Friday morning. Pollard was tragically killed on Sunday night, after he fell off a bridge while working at the scene of a car accident in Brooklyn.
The NYPD has started towing vehicle on Thursday night, as they prepare for 20,000 people to attend the funeral which will take place at 11:30AM Friday at Good Shepherd Church, 1950 Batchelder Street. FDNY Commissioner Nigro and Mayor Delasio are scheduled to give eulogies, along with other speakers, according to the FDNY.
Residents in Flatbush and Marine Park should be aware of the following submitted to YWN by the Commanding Officer of the NYPD 61 precinct, Deputy Inspector James King:
Due to the funeral for Firefighter Pollard on Friday, January 11th; Street closures will be in effect from 8:00AM to 3:00PM. The following streets are affected:
* Avenue S from Gerritsen Avenue to Coney Island Avenue
* Batchelder Street from Gerritsen Avenue to Avenue T
* Brown Street from Gerritsen Avenue to Avenue T
* Nostrand Avenue from Avenue S to Avenue Y
Be advised that any vehicle parked along those routes will be towed starting Thursday, January 10th at 8PM and relocated to another location. If your car gets towed, you can ask a police officer where it was towed to or call the 61st Precinct at 718-627-6611.
As YWN had reported, FDNY Commissioner Daniel Nigro said Ladder Company 170 in Brooklyn was called to a two-car accident with injuries on the Belt Parkway, near the old Mill Basin Drawbridge located just east of Flatbush, on Sunday at 10 p.m.
As the firefighters were going to help the victims, Pollard slipped through a gap in the roadway and fell approximately 52 feet to the ground below. He was pronounced dead at a Kings County Hospital.
EDITORS NOTE: We are aware of people on social media taking aim at YWN for calling this a "traffic nightmare", claiming it is disrespectful to the family and the FDNY. While YWN joins the city and the FDNY in mourning this hero who died tragically, our readers should be aware of the reality that is set to unfold on a short Erev Shabbos – a traffic nightmare. YWN sends our condolences to the family of this hero, and may G-d bless the men and women of law enforcement and emergency personnel that keep the citizens of NYC safe.
(YWN World Headquarters – NYC)