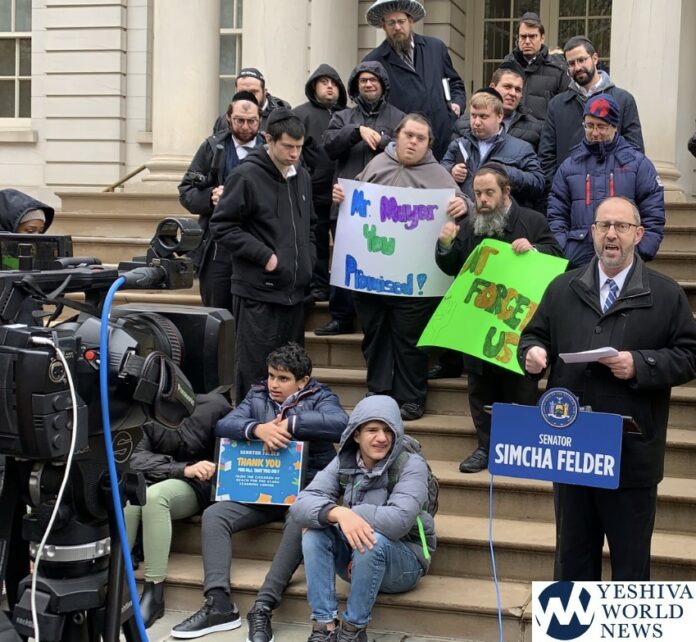 Special needs children, families and educators from across NYC converged on City Hall this morning to demand that Mayor de Blasio force DOE into federal compliance with the Individuals with Disabilities Education Act (IDEA) and finally put an end to the neglect, pain and hardship suffered at the hands of DOE. Joined by Senator Simcha Felder they delivered a strong and unified message: Mr. Mayor, keep your promise to thousands of special needs children and their families.
"Children who are used to being left out are once again being neglected, this time by the city. We are talking about serving New York's most vulnerable kids. Today, the torture these families endure at the hands of the city is worse than ever. What they go through, year after year, is cruel and unusual punishment," said Senator Felder.
In 2014, Mayor de Blasio held a well-publicized press conference detailing his strong commitment to "reduce litigation, streamline paperwork, and ensure parents have a responsive and efficient process to meet their child's special education needs." However, over the last few years, while paperwork requirements have increased, the city's compliance has plummeted, with responsiveness and reimbursements more delayed than ever. A report recently issued by the city Department of Education itself, reveals that its schools failed to meet the 60-day timeline for evaluating students for additional supports or smaller classroom settings in clear violation of federal timelines.
"Parents are under constant stress to meet numerous deadlines and submit mounds of paperwork every single year, despite the fact that their child's condition is permanent. Unfortunately, the city's ability to enforce compliance only works one way," said Senator Felder.
Senator Andrew Gounardes said, "The City is failing our special needs students and families when it drags its feet in fulfilling its settlements. Delays in funding or services, after an already arduous legal struggle, can have a serious effect on a child's education and development. It is urgent that the City act now to come into compliance legally and do the right thing by our special needs students."
According to a report from the NYS Education Department, New York City has been out of compliance with federal law (IDEA) for years over its failure to deliver services to special education students. Their report found that the failures were so pervasive, they occurred at virtually every level of New York City's special education system. Among the City's most egregious violations of federal law is its failure to meet federally required deadlines.
Assemblyman Peter J. Abbate said, "There remains no doubt that we need to speak in one voice for special needs children. I stand with my colleagues, parents and educators for the needed funding for essential programs and services for the children."
"The rights afforded under the law are clear, the guidelines are clear, yet despite repeated calls for improvement this administration has let children languish by neglecting its lawful responsibility. The city's wanton disregard for the law has victimized these families long enough," said Senator Felder.