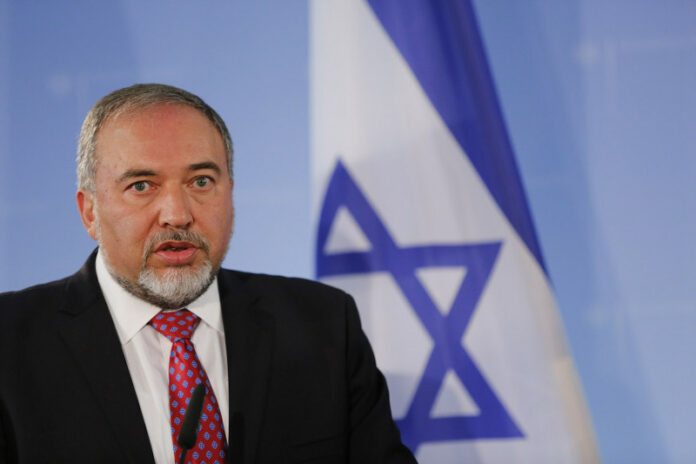 Yisrael Beiteinu chairman Avigdor Liberman utilized his press conference on Wednesday to not only announce his intentions of refusing to support either Gantz or Netanyahu, which in all likelihood will force Israel into a third round of elections but also to spew even more vitriol against entire communities, including a renewed and particularly vicious attack on Chareidim. It didn't take long for politicians to lash back at him, and this time, even left-wing politicians and journalists were appalled by Liberman's invective.
Left-wing politician Tamar Zandberg, previously chairman of Meretz and now an MK for the Democratic Union, said: "Liberman's speech: 'Excluding Chareidim and Arabs.' The next government needs to be precisely the opposite – including excluded minorities and excluding racists."
Journalist Barak Ravid, who isn't known for his love of the Chareidi community was quoted by Kikar Shabbos as saying: "The incitement of Liberman against the Chareidim reached a new peak today – on the brink of anti-Semitism."
Even Joint Arab List chairman Ahmad Tibi spoke up since Liberman denounced the Arab community as well: "The incitement of Liberman against the Arabs and Chareidim are racism and anti-Semitism for its own sake. We'll continue to build bridges with the Chareidi parties despite our differences of opinion."
MK Itzik Cohen (Shas) responded: "He's leading an entire state time after time into elections – an irresponsible person whose entire public record can be summed up as one big zero and who defames entire communities. I'm referring to Mr. Liberman, who spreads hatred and anti-Semitism in the lowliest fashion."
"You won't be able to silence us," Cohen continued. "In the past, you succeeded in silencing those who could have put you in a different place. You won't silence us like you silenced those you wanted to silence, and enough said. [Cohen was hinting at the mysterious disappearance of the witnesses in criminal cases against Liberman a number of years ago.] You're arrogant, a nothing. Get out of public life. Your contribution to the state of Israel and to Israeli society is negative and far worse than that."
Deputy Health Minister Yaakov Litzman (Agudat Yisrael) and MK Moshe Gafni (Degel HaTorah) arranged an urgent meeting in the wake of Liberman's words against the Chareidi community.
"Today, we witnessed an ugly and disgraceful horror show by Liberman, full of lies, ignorance and hatred, that wouldn't have put the greatest haters of religion and Jewish tradition from all of time to shame," Litzman said. "Unfortunately, it can be said that anti-Semitism was newly revealed today."
"This man needs to leave politics," Gafni said. "This neighborhood bully won't dictate our way of life. We've never heard anything like this in the Knesset. We had a close relationship with him [in the past] – we can't disclose everything. This man is simply an anti-Semite."
"We'll examine this issue legally as well," Gafni threatened. "We won't play into his hands. Liberman, who are you anyway – you're a nothing!"
MK Yisrael Eichler (Agudat Yisrael) said: "I've seen the discourse against Chareidim for many years but I've never seen anti-Semitism like this. Liberman did all this to cover up his crime of leading us to a third election while wasting billions of [shekels] from public money."
Prime Minister Binyamin Netanyahu said: "It's forbidden to invalidate the Chareidi community. They're our flesh and blood."
(YWN Israel Desk – Jerusalem)