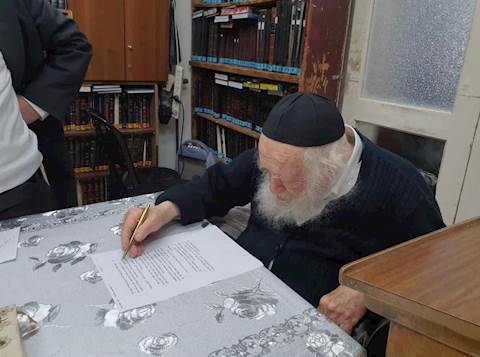 Following a report last week that Harav Chaim Kanievsky told a principal of a Talmud Torah not to close his school since "the danger of bittul Torah in the Talmudei Torah is greater than the coronavirus," the principal's school in Petach Tikvah remained open.
However, the principal was facing great pressure from the mayor of Petach Tikvah and he again approached Harav Chaim who told him to close the school due to the mayor's demands, B'Chadrei Chareidim reported.
Harav Chaim Kanievsky also said that men should refrain from being toivel in a mikvah due to the spread of the coronavirus, Kikar H'Shabbos reported.
Harav Chaim explained to those who asked: "One must be more machmir with sakana than issur ("חמירא סכנתא מאיסורא").
The posek Harav Ben Tzion Hakohen Kook, a mekurav of Harav Chaim wrote a recent teshuvah saying that men should not use the mikvah due to the risk of being infected with the coronavirus since men's tevilah is not mei'ikar ha'din.
STAY UPDATED WITH BREAKING UPDATES FROM YWN VIA WHATSAPP – SIGN UP NOW Just click on this link, and you will be placed into a group.
The Health Ministry issued a closure on all yeshivahs and kollelim on Wednesday afternoon, including groups smaller than ten. Violations of the closure order will be considered a criminal act.
Some yeshivos have remained open while following the guidelines of the Health Ministry to avoid crowds of over 10 people. In light of this, the Health Ministry ordered tightened restrictions specifically to the Chareidi community.
Those who violate the order can be sentenced to prison for up to half a year and face a fine of NIS 5,000.
(YWN Israel Desk – Jerusalem)