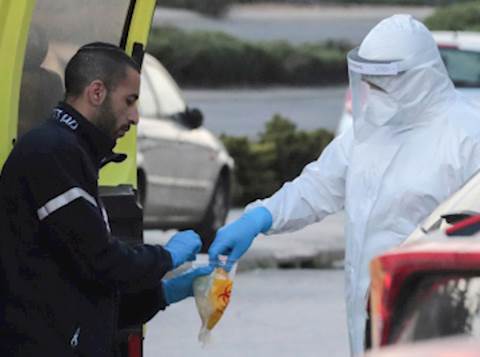 There are 3,619 people diagnosed with the coronavirus in Israel as of Motzei Shabbos, with 54 in serious condition, of which 43 are on respirators.
Two more patients passed away from the coronavirus on Friday both of them elderly people with serious underlying illnesses.
The Health Ministry stated that 1,828 patients have only light symptoms and are self-quarantining at home.
An 82-year-old Israeli from Haifa passed away from the coronavirus in Italy overnight Thursday, Israel's Foreign Ministry reported.
Shmuel Sifri had been on a cruise with his wife near Turin in northern Italy and contracted the coronavirus. He was hospitalized in a local hospital and passed away a few days later. His wife is in quarantine on a military base in Turin. The Israel consul in Rome, Eitan Avraham, is assisting the family.
Sifri is the first Israeli to have died from the coronavirus abroad.
The Health Ministry stated on Friday that in another two weeks the amounts of tests per day for the coronavirus will rise to 30,000. Almost 6,000 tests were performed on Friday and the number of tests will rise to 10,000 by next week.
Prime Minister Binyamin Netanyahu held an emergency meeting on Friday in wake of the increasing number of coronavirus cases in the last few days and ordered authorities to crack down on enforcing the regulations restricting Israelis from leaving their homes beginning on Sunday.
About 1,300 fines were issued to Israeli citizens and businesses over the weekend for violating Health Ministry regulations, Channel 13 News reported, with 900 fines issued to people who were more than 100 meters away from their homes.
On Sunday, 500 IDF soldiers will be deployed across Israel to assist Israel police in enforcing Health Ministry regulations in order to stem the spread of the coronavirus.
(YWN Israel Desk – Jerusalem)