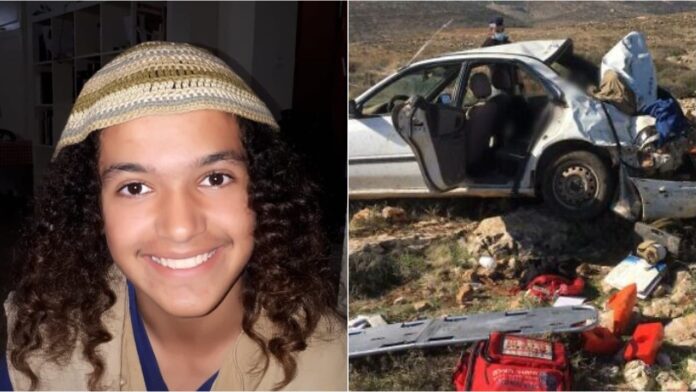 A "hilltop youth" was killed in a car crash in Gush Etzion on Monday while being chased by the police.
The youth, who was later identified as Ahuvya Sandak, 16, from Bat Ayin, was part of a group of hilltop youth who were allegedly throwing rocks at Arab vehicles near the yishuv of Kochav HaShachar on Monday.
Israel Police arrived at the scene and the group of boys jumped into a car and fled the scene. The police pursued the car and according to the police, the driver of the youths' car lost control during the chase and the car flipped over, killing Sandak and lightly injuring four other passengers.
However, according to Honenu, a legal aid group that is representing the victims, the undercover police vehicle smashed into the back of the victims' car, causing their car to run off the road.
Sandak was trapped under the car and it took 40 minutes until he was extricated. Conflicting reports have emerged about delays in trying to save Sandak, with some accusing the police of negligence. Others said that the youths were unaware that Sandak was trapped under the car, assuming he had fled the scene by foot, and refused to cooperate with the police, leading to a delay in Sandak receiving life-saving care.
The Police Internal Investigations Department opened an investigation into the incident.
On Monday night, about 200 people, mainly settler youth, protested outside the national police headquarters in Jerusalem in protest of what they called the murder of Ahuvya Sandak. A large number of police forces and Border Police dispersed the demonstrators and violent conflicts ensued. A large number of protesters, about 50, were detained in the course of the protests and a Border Police officer was lightly wounded by a rock thrown by one of the protesters.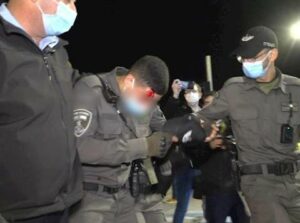 Another incident tied to the accident occurred when Yamina MK Bezalel Smotrich approached the scene of the accident and was physically prevented from doing so by a police officer, despite his parliamentary immunity.
המשטרה לא מאפשרת לח"כ בצלאל סמוטריץ' להתקרב לאיזור האירוע שבו נהרג הצעיר בן ה-16 בשומרון, השוטר במקום מאיים על סמוטריץ' ואומר לו "אתה תיעצר"
בדיוק בישביל זה יש לחברי כנסת חסינות, בושה pic.twitter.com/dzGUjxjI82

— חיים גולדברג (@haim_goldberg) December 21, 2020
Gush Etzion Regional Council head Shomo Ne'eman said on Monday that it's a difficult day for Bat Ayin and the entire Gush Etzion. "This is a dear family, known and very active in the Gush. We're standing by their side during their deep mourning and supporting them with everything they need. The members and employees of the council and the residents of Gush Etzion embrace them and mourn their loss."
"We're shocked [by the accident] and demand a full investigation of what happened on the ground," Ne'eman continued. "Apart from the need to reveal to the truth of what happened, our unequivocal demand is to stop the police violence immediately. If only a small part of the enormous resources invested in the pursuit of hilltop youth were invested in society and education, we wouldn't be witness to this horrific tragedy that happened today."
(YWN Israel Desk – Jerusalem)