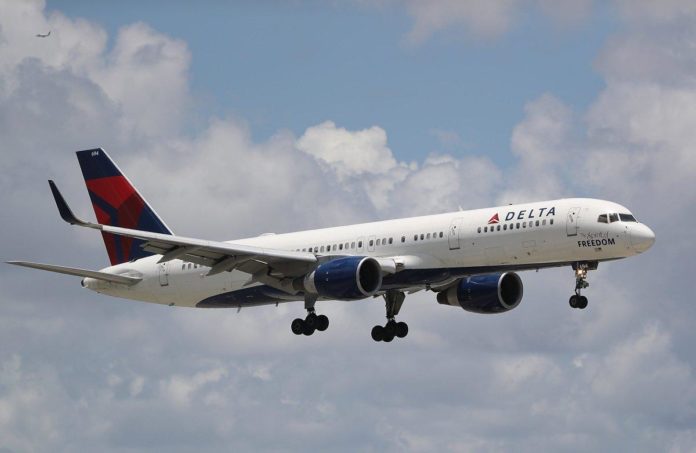 A new lawsuit alleges Delta Airlines doesn't just treat Jewish people unfairly, it also punishes its flight attendants who are friendly with them.
The suit is being brought by four current and former Delta flight attendants from New York, with work experience ranging from 10 to 40 years, and all with experience working Delta's New York-Tel Aviv flight from JFK to Ben Gurion. They are suing the airline for what they call "a pattern of intentionally discriminating and retaliating against ethnically Jewish, Hebrew and/or Israeli employees and passengers," specifically on the NYC-Tel Aviv flight.
According to a brief obtained by YWN from one of the attorneys working on the case, they allege "Delta has encouraged and maintained an anti-Jewish, Hebrew and ethnic Israeli attitude among management, who, through words and deeds, operate under an express assumption that ethnic Jews and Israelis, as employees and passengers, cannot be trusted, are aggressive and inappropriate, and engage in what are deemed to be "strange" behaviors by conducting prayers on the flight and requiring special dietary accommodations (kosher meals)."
Two of the plaintiffs are of Jewish/Israeli ethnicity, and two were disciplined or subjected to a 'hostile work environment' for association with Jewish/Israeli Flight Attendants and passengers of Delta Air Lines.
Among the allegations of rampant anti-Semitism, Jewish and non-Jewish employees claim to have faced repercussions for simply sharing their "Travel Companion" passes with their Jewish and/or Israeli friends, though not a violation of Delta's rules, but is rather a benefit of employment provided by Delta. They allege the travel benefits were taken away from them simply because the pass was given to a Jewish person.
The 4 attendants are suing for damages over the alleged illegal discrimination, and are demanding reinstatement of wrongfully fired employees and/or suspended travel privileges. The suit was filed in the United States District Court, Southern District of New York.
Delta Air Lines said it "strongly condemns the allegations of discrimination described in this suit and will defend itself vigorously against them."
"As a global airline that brings people across the world together every day, Delta values diversity in all aspects of its business and has zero tolerance for discrimination," the carrier added.
(Nat Golden – YWN)