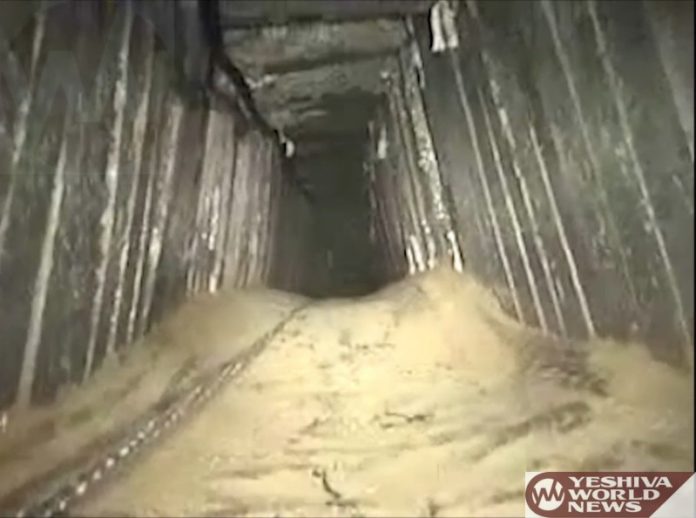 (VIDEOS AND PHOTOS IN EXTENDED ARTICLE)
IDF soldiers were busy on Shabbos as they were preparing to destroy another terrorist tunnel from Gaza to Israel that was Baruch Hashem detected by Israel. The tunnel was bombed on Sunday morning to make certain it was totally destroyed.
It is reported fighter planes were operating in the area of the Kerem Crossing from Israel to Gaza. This tunnel extended to Egypt, that is to say it went from southern Israel through Gaza to Rafiach, a length of about 1.5 kilometers (.932 miles).
The tunnel penetrated 180 meters into Israel territory, passing underneath Kerem Shalom, the only commercial crossing between Gaza and Israel which serves as the conduit for gas and diesel pipelines and antennas. Israel shut down the crossing as a result until further notice.
IDF Spokesperson Brigadier-General Ronen Manelis denied claims made by Hamas that the tunnel was merely intended for smuggling.
"This is the first terror tunnel of its kind that has been dug over the last year and was still being worked on. It's possible that it was dug on the Egyptian side to stage a combined attack in the future on the Kerem Shalom crossing from the Egyptian side too and to transport activists or weapons to the Sinai," Manelis said.
IDF spokesman Lt. Col. Jonathan Conricus said Israeli jets struck part of the tunnel and a new set of sophisticated "tools" destroyed the rest. Conricus said forces had been monitoring its construction for some time and an imminent attack on Israelis was possible.
Israel has made neutralizing the tunnel threat a top priority since its 2014 war, when Hamas terrorists on several occasions made their way into Israel. Although they did not manage to reach civilian areas, the infiltrations caught Israel off guard, killing five soldiers in one attack, and terrified the local population.
Sunday's operation marked the third such tunnel Israel has destroyed over the past two months. Conricus said this did not mark "more of the same" since it involved the most advanced technological means Israel has deployed.
"(We) now hold a method, an organized system to destroy terror tunnels dug into Israel," he said in an early morning briefing to reporters. "This is a key mission for us and our intention is to allow quiet and to deter Hamas so we can continue to build the obstacle."
Prior to departing for India on an official state visit on motzei Shabbos, Prime Minister Binyamin Netanyahu said, "This evening, the IDF attacked a main Hamas terrorist infrastructure in the Gaza Strip. There are some who say that the IDF attacks sand dunes – this is incorrect. We are responding to aggression against the State of Israel and are taking vigorous and systematic action against hostile infrastructures.
Prime Minister Netanyahu said the same evening that Israel would continue to "systematically respond with even greater force" to terror attacks launched by Hamas from Gaza, confirming that the IAF had attacked the Hamas target in the southern Gazan city.
Speaking from India, Netanyahu commented on the significance of the operation. "We are systematically destroying Hamas' and Islamic Jihad's tunnel infrastructure. Let them not mess with us," he said.
Defense Minister Avigdor Lieberman said the tunnel's construction was a clear violation of Israeli sovereignty and destroying it delivered a stinging blow to one of Hamas' most significant assets. "The message to Gaza's leadership and residents is clear — invest in the sanctity of life and not these burial tunnels," he said.
Maj. Gen. Yoav Mordechai, who heads COGAT, the defense body responsible for Palestinian civilian matters, told the Arabic-language Alhurra TV station that Israel had information about other tunnels and that "soon, we will hear about the uncovering of the existing tunnels."
The IDF Spokesman's Office points out that in 2017, hundreds of trucks passed into Gaza via Kerem Shalom almost daily, bringing a total of 570,000 tons of food, 7,044 tons of medical equipment, 10,000 tons of electrical equipment, 15,000 tons of textiles and equipment, 3.3 million tons of building materials and 12000 tons of farming/agriculture equipment.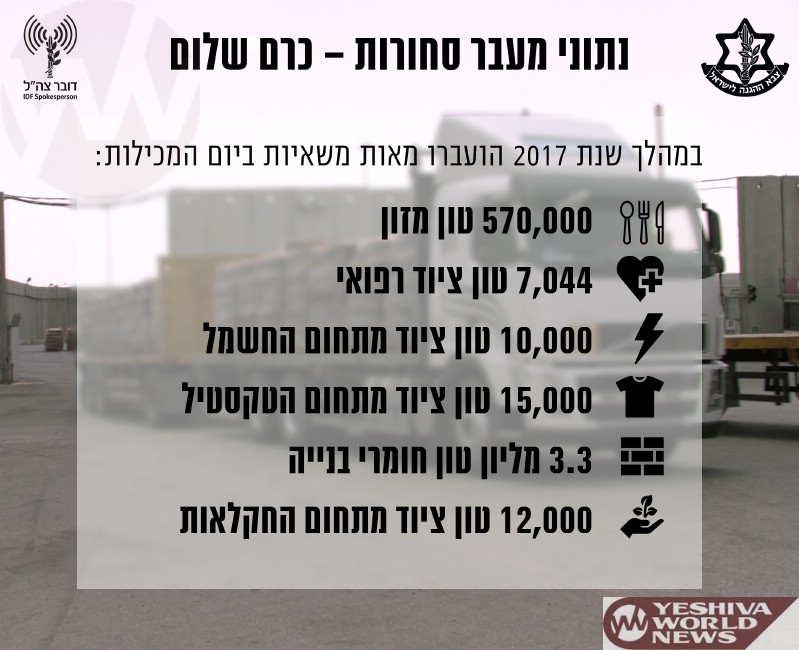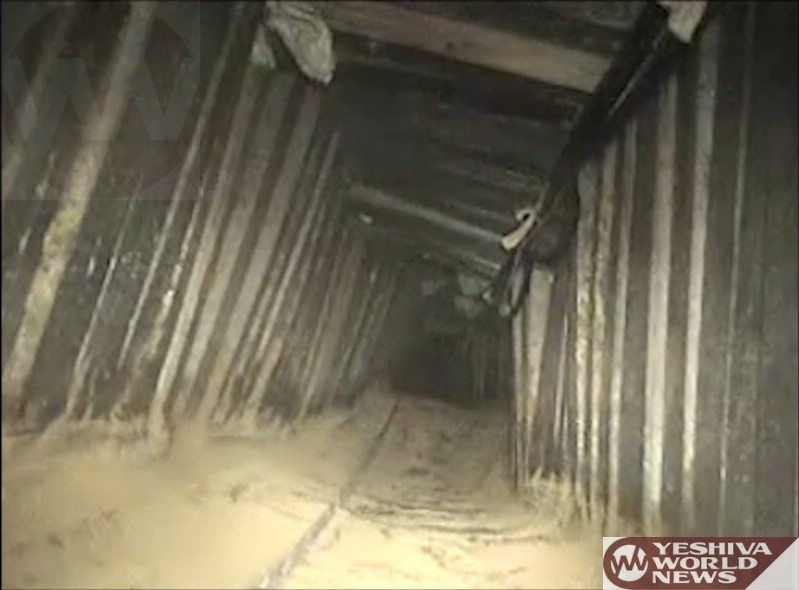 Commander of the Southern Brigade in the Gaza Division, Col. Kobi Heler spoke on the destruction of the terror tunnel near the Kerem Shalom Crossing earlier today pic.twitter.com/IzkDCaTC2T

— IDF (@IDFSpokesperson) January 14, 2018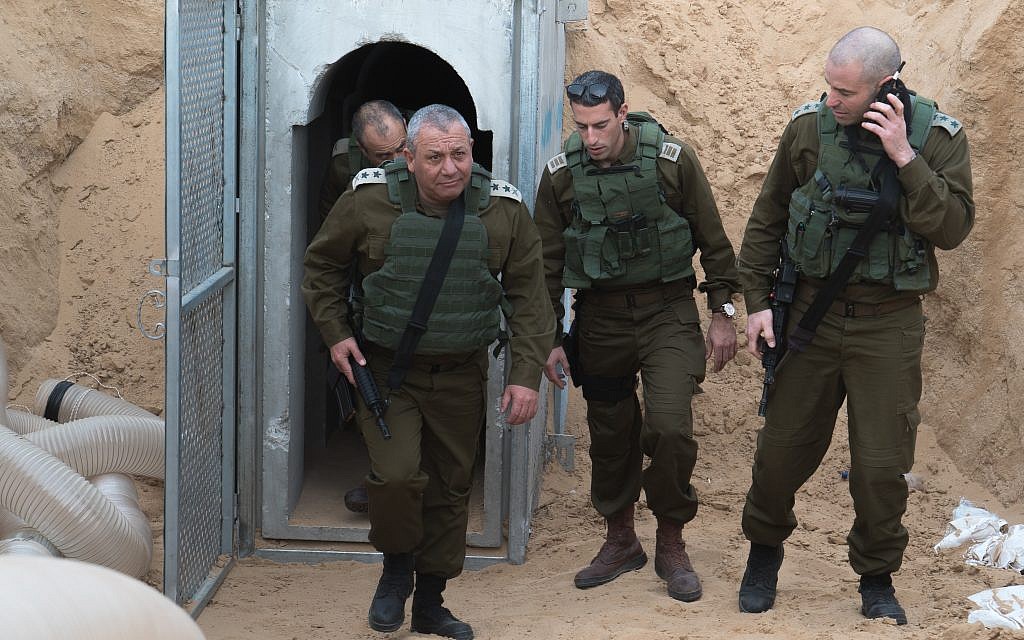 Today, the GOC of the Southern Command, Maj. Gen. Eyal Zamir visited the site where the terror tunnel was exposed in Kerem Shalom. He met the Head of the Eshkol Regional Council, Mr. Gadi Yarkoni and updated him about the tunnel's destruction pic.twitter.com/BMWkQqlj7p

— IDF (@IDFSpokesperson) January 14, 2018
(YWN – Israel Desk, Jerusalem)